by Thomas Sheridan, adapted from William Shakespeare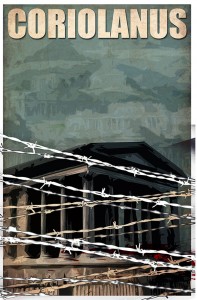 William Shakespeare's searing tragedy of political manipulation and familial betrayal is a shockingly contemporary tale of intrigue, spin-doctors, and divided politics. Coriolanus, a powerful and arrogant Roman general, holds nothing but contempt for the people of Rome. After the Tribunes banish him, Coriolanus raises an army to take back his position and exact his revenge; but his mother and the citizens have other plans.
Bag&Baggage continues our exploration of lost classics by staging the nearly lost 1749 adaptation of the Shakespeare play by Thomas Sheridan; Coriolanus, or the Roman Matron is largely credited with being the adaptation that saved Shakespeare's work from an ignominious slide into history.
A tight, fast-paced, and character driven work, Sheridan's Coriolanus retains all of Shakespeare's passion and fire but trims the narrative and highlights the relationship between the titular character and Volumnia, Coriolanus' powerful and not-to-be-trifled with mother. Our production of the Sheridan adaptation is the first in recorded American history.
THE BOX OFFICE FOR THIS EVENT IS LOCATED AT 150 E MAIN STREET, AT THE CIVIC CENTER PLAZA, NEXT DOOR TO THE STARBUCKS. PLEASE CHECK IN AT THE BOX OFFICE BEFORE ENTERING THE SEATING AREA!
Coriolanus, Or The Roman Matron
by Thomas Sheridan, adapted from William Shakespeare
The Tom Hughes Civic Center Plaza
150 E Main Street
Hillsboro Oregon 97123
July 7, 8, 9, 14, 15, 16, 21, 22, 23, 2016
Thursday, Friday, and Saturday at 7:30pm
See the latest updates about this production!
NOTE: Thursday, July 7th is PAY WHAT YOU WILL. Tickets for this performance are NOT available online and may only be purchased at the Box Office (located at 150 E Main Street) with cash or check.
Also, PLEASE NOTE: This is an OUTDOOR performance and seating is NOT PROVIDED. Please make sure you bring a lawn or camp chair, cushion, or blanket as your seating.
NOTICE: IN CASE OF RAIN, PERFORMANCES WILL BE MOVED INDOORS TO OUR NEW HOME AT 350 E MAIN STREET, DOWNTOWN HILLSBORO WITH A START TIME OF 8:00PM
Students, Teachers, and Parents: Click Below For Our Coriolanus, Or The Roman Matron Study Guide!