EVENT MANAGER
DEADLINE FOR APPLICATIONS: MARCH 9th, 2018 at 5:00pm
Bag&Baggage Productions and The Vault Theater are seeking an outstanding early career professional to join our dynamic team in a new position as Event Manager. The Vault, our new permanent home, plays host to a range of different events, both in-house fundraising events and performances, and outside rentals: our new Event Manager will be the primary point person for all of these events and will have the opportunity to help Hillsboro's newest performing arts venue and events center grow and prosper!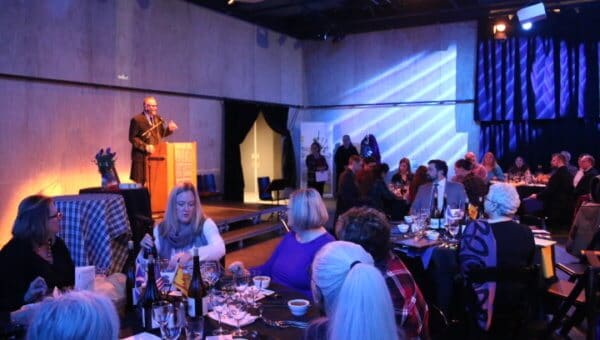 Our ideal candidate has:
experience as an event manager, venue manager, special event planner, or other comparable position;
an appreciation for and knowledge of the event needs for live entertainment, performing arts, dance, theatre, film, and corporate/special events;
experience interfacing and engaging with clients (from seasoned promoters to first-time event producers), community leaders and donors, and people from different walks of life;
experience working in an active office setting and can operate effectively in that type of environment;
an ability to represent Bag&Baggage and The Vault with a high degree of professionalism to external clients, including giving tours, providing detailed bids and estimates for rental costs, interacting with clients on the day of the event, managing contracted staff, and representing the organization at community events and tradeshows;
ideally, a familiarity with Hillsboro and Washington County, and with B&B's unique approach to theatre and events.
Summary of Expectations:
The Event Manager manages the administrative process for all events bookings in The Vault, and serves as the on-site House Manager for events. This may include load-in/tech/rehearsal days, primarily handling the venue's outside rentals, in-house fundraising events, and other types of new programming, from cultural performances to traditional performing arts.
In-house events include Bag&Baggage's annual summer gala, our annual Burns Night Supper, Valentine's Day events, and other one-off fundraisers. Rental events have included retirement parties, product launches, graduation parties, film events, wine tastings, and others.
The Event Manager will be responsible for outbound sales as well, establishing new client pipelines and relationships, and for business retention.
The Event Manager will work in a collaborative team setting (including with our Technical Director, Patron Services Manager, Managing Director, Artistic Director, and Board volunteers) and will play a key role in the development of The Vault as downtown Hillsboro's premiere event and performance space.
Essential Functions and Responsibilities:
Work with the Managing Director and Technical Director to ensure that client bids, contracts, deposits, insurance coverage, and all event-related documents and materials are sent, received, processed, filed, and approved in a timely manner.
Prepare bids, invoices, contracts, and coordinates payment.
Correspond and/or meet with clients prior to events to advance front-of-house needs and requirements.
Ensure that clients and patrons follow theatre event and safety policies and that all fire codes are strictly enforced.
Manage and schedule all event support staff, including front-of-house, technical, and bar staff, to ensure proper staffing coverage before, during, and after events.
Ensure that the front-of-house staff provides quality customer service.
Work closely with our "preferred caterers" and outside vendors to provide bids in a professional and timely manner.
Coordinate with the Managing Director and Technical Director to ensure proper staffing of ushers, event set-ups, and temperature control.
For in-house B&B events (our annual gala, the Burns Supper, and other fundraising events), co-ordinate all event planning requirements with the Managing Director, Artistic Director, and Board representatives.
Job Requirements and Qualifications:
The requirements listed below are representative of the knowledge, skills, and/or abilities required to perform this job successfully. Reasonable accommodations may be made to enable individuals with disabilities to perform the essential functions.
Knowledge of event management.
Ability to prioritize daily task lists, to problem solve, and to handle various projects simultaneously under tight deadlines.
Ability to meet operational and rental goals.
Excellent customer service skills.
Professional demeanor and appearance at all times.
Strong written communication and proofreading skills, including the ability to write reports, correspondence, agreements, and other documents.
Ability to think critically and process information that in turn needs to be communicated in a variety of ways, from being relayed to a client or colleague or implemented in a report or other records.
Team player who is able to work well with others in sometimes stressful environments.
Ability to work and communicate effectively with people of diverse cultural backgrounds.
Physical Demands:
The physical demands described here are representative of those that must be met by an employee to successfully perform the essential functions of this job. Reasonable accommodations may be made to enable individuals with disabilities to perform the essential functions.
While performing the duties of this job, the Event Manager is regularly required to use hands to handle, or feel; reach with hands and arms, and talk or hear. The employee is frequently required to sit, stand, stoop, kneel, or crouch. The employee must occasionally lift and/or move up to 25 pounds. Specific vision abilities required by this job include close vision, distance vision, color vision, and the ability to adjust focus. The employee will regularly use the telephone, computer, and radio handset or headset. The employee will occasionally use a POS system.
Work Environment:
The work environment characteristics described here are representative of those an employee encounters while performing the essential functions of this job. Reasonable accommodations may be made to enable individuals with disabilities to perform essential functions. While performing the duties of this job, the Event Manager is occasionally exposed to outside weather conditions. The noise level in the work environment is usually moderate, but is occasionally loud. Often the work environment will be darkly lit or will be lit by theatrical lighting instruments.
Salary:
Between $30,000 - $35,000 annually, depending on experience
TO APPLY:
Please send a resume via email, including the contact names for two professional references familiar with your previous experience, along with a cover letter detailing why you are the ideal candidate for this position, to the attention of:
Beth Lewis, Managing Director
Bag&Baggage Productions
350 E Main Street
Hillsboro, OR 97123
beth@bagnbaggage.org
DEADLINE: MARCH 9th, 2018 at 5:00pm
ANTICIPATED START DATE: April 2, 2018
AUDITION ANNOUNCEMENT
Bag&Baggage is seeking actors to fill multiple roles in a small-cast adaptation of Shakespeare's pastoral comedy As You Like It.

As You Like It rehearsals begin on Sunday, June 10th, and are held Sundays from 12:00-6:00pm, and Monday/Tuesday/Wednesdays from 6:00-10:00pm. The show previews Thursday, July 12 and opens Friday, July 13th; performances run Thursday/Friday/Saturday evenings and Sunday matinees through July 29th. Performances and rehearsals will take place at The Vault Theater in downtown Hillsboro - reliable transportation or willingness to travel on the MAX or public transportation is essential. (The Vault is located one block from the Hillsboro Central stop on the MAX Blue Line.)
Audition Details:
Auditions are by appointment on Saturday, March 17th, and by invitation only. Interested artists are asked to submit the following for consideration:
A headshot (in pdf format)
A current resume (in pdf format)
Two professional acting references (previous directors preferred)
All roles are paid an hourly rate of minimum wage or higher, based on rehearsal calls and performances (between $1200 and $1680 depending on size of role). Bag&Baggage is committed to the State of Oregon's focus on paying an hourly wage for work by performing artists, so performers are paid as employees with taxes taken out of all wages.
The deadline for submission of materials is Friday, March 9th at 5:00pm; auditions will take place at The Vault Theater at 350 E. Main St. in downtown Hillsboro on the afternoon of Saturday, March 17th. Artists invited to audition will be assigned a time slot and provided sides.
Note: B&B is committed to equity, diversity, and inclusion and to creating a safe place for actors of all backgrounds to explore their craft. We are particularly eager to work with artists of color.
Please submit materials to Associate Artistic Director Cassie Greer at cassie@bagnbaggage.org
---
General Crew Opportunities
Paid crew positions available for productions may include: Stage Manager, Assistant Stage Manager, Run Crew, Head of Props, Light Board Operator, Sound Board Operator, Set Construction crew, and Front of House Manager.
To be considered for a paid crew position, you should have previous professional experience, access to reliable transportation (or ideally be based in Washington County), and be available and willing to attend rehearsals and work in Hillsboro. Preference will be given to applicants who posses either significant Educational Theatre experience at a college level and/or Professional Experience.
To be considered for a crew position, please send an electronic resume to our Managing Director Beth Lewis in PC format (.doc or .pdf), including references and contact information for your references (send to: beth@bagnbaggage.org). Please also be sure to indicate what crew position(s) most interest you. Applicants selected for consideration will be contacted to arrange an interview time. Hired crew members will be offered a competitive wage, based on the crew role and production.
---
Internships
Backstage Tech Internships
Any student who will be either a Junior or a Senior during the 2017-18 school year can apply for crew positions for any Bag&Baggage show by submitting a short letter of interest to Bag&Baggage Associate Artistic Director Cassie Greer via email at cassie@bagnbaggage.org. In the letter, please identify what area of production you are interested in learning, and what previous experience you have had working on theatrical productions with you school or other theatre groups. Interns who are selected may fill roles such as: run crew, light board operator, sound board operator, or set construction/installation crew. Preference will be given to students who live and/or attend a school in Washington County. Applicants (with the exception of those interested in set construction/installation) must be available during all technical rehearsals and performances. All interns are paid a small stipend. Required dates of availability and application deadlines for each show of the 2017-18 season are listed below.
The Farndale...Murder at Checkmate Manor - October 8-31, 2017; apply by September 25
Charles Dickens Writes A Christmas Carol - November 26-December 23, 2017; apply by November 13
Death and the Maiden - March 5-25, 2018; apply by February 20
Blithe Spirit - May 7-27, 2018; apply by April 24
---
Volunteer
Volunteer opportunities are available for those interested in ushering or assisting in other methods of support for the Company. Please send an email to info@bagnbaggage.org expressing your level of interest and availability for volunteer opportunities.