Audition Announcement: The Measure of Innocence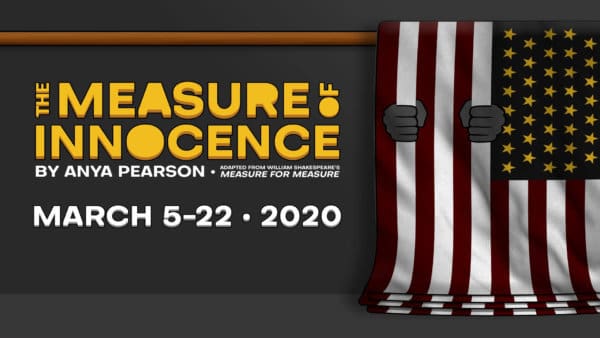 Bag&Baggage Productions is seeking actors to fill multiple lead roles in our March 2020 world premiere production of Anya Pearson's The Measure of Innocence. This piece is the second installment of B&B's "Problem Play Project" commissioning Oregon-based theatre artists of color to adapt Shakespeare's so-called "problem plays" through the lens of their own cultural background and social perspective. Anya Pearson's The Measure of Innocence is adapted from Shakespeare's Measure for Measure and explores the flaws in our criminal justice system and systemic racism in our country and our state.
This project has changed directors since our initial round of auditions at the end of May. If you have previously auditioned or been called back for The Measure of Innocence, you are still in consideration for the project, and we will be in touch.
Roles Available:
CLAUDIO — African-American male, early 30's. Sister to ISABEL. Engaged to JULIET.
ISABEL — African-American female, late 20's. CLAUDIO'S younger sister.
JULIET — African-American female, late 20's-early 30's. Engaged to CLAUDIO. Pregnant.
LUCKY — African-American male, late 20s-early 30's. A childhood friend of ISABEL and CLAUDIO's.
BARNADINE — African-American male, 50's. A prisoner. CLAUDIO'S cellmate.
PLAYWRIGHT, African-American female, early 30's. 
SHAKESPEARE (Original Playwright), White male, any age.
LATE NIGHT TALK SHOW HOST (Stephen Colbert-esq with a dash of John Oliver) White male, 40s.
Four ENSEMBLE roles. These actors play all of the men in control of the criminal justice system as well all of the men in the political arena, as well as the white female characters. They should be a group of highly talented, agile actors who are skilled at improv, sketch comedy, impersonation, and possess the ability to shift between characters with clarity and distinction, even within the same scene.
AEA Special Appearance Tier 2 contracts are available.
Production Details:
As a new commissioned work, the cast will be invited to participate in script development workshops in August, September, and December of 2019. Contracts for these workshops are negotiated separately, and actors are paid for workshop participation outside of the rehearsal and performance process. Inability to participate in workshops WILL NOT preclude casting in the full production. Actors may also be invited to workshop the script but not cast in the full production.
The Measure of Innocence rehearsals begin on Monday, January 27, 2020, and are held on Sundays from 12:00-6:00pm, and Monday/Tuesday/Wednesdays from 6:00-10:00pm. The show previews Thursday, March 5th and opens Friday, March 6th; performances run Thursday/Friday/Saturday evenings and Sunday matinees through March 22nd. Performances and rehearsals will take place at The Vault Theater in downtown Hillsboro – reliable transportation or willingness to travel on the MAX or public transportation is essential. (The Vault is located one block from the Hillsboro Central stop on the MAX Blue Line.)
Audition Details:
Auditions are by invitation only on Monday, August 19th between 4:00 and 8:00pm; callbacks will follow immediately at 8:00pm. Interested artists are asked to submit the following for consideration, via the form below:
A headshot (in jpg or pdf format)

A current resume, including notes on union affiliation (in pdf format)

In the "notes" field, please note availability on the audition date (4:00-10:00pm on August 19th)
All roles are paid under either an AEA Special Appearance contract, or an hourly rate of minimum wage or higher, based on rehearsal calls and performances (approximately $1750). Bag&Baggage is committed to the State of Oregon's focus on paying an hourly wage for work by performing artists, so performers are paid as employees with taxes taken out of all wages.
Deadline for submission of resumes is Friday, August 16th at 5:00pm; auditions will take place at The Vault Theater at 350 E. Main St. in downtown Hillsboro. Artists invited to audition will be asked to prepare a two minute audition (three minutes for AEA) of either one or two contrasting monologues. Sides will be provided when auditioners are offered a time slot.
B&B is committed to equity, diversity, and inclusion and creating a safe place for actors of all backgrounds to explore their craft. We are particularly eager to work with artists of color.
___
Bag&Baggage hires actors on a show-by-show basis as needed throughout the season, and show-specific audition details are posted on this page when available. Actors are auditioned by invitation only; if you are interested in submitting for consideration, please upload your headshot and resume below.
B&B annually attends the PATA General and PATA Unified Shakespeare Auditions, and offers a limited number of AEA contracts throughout the season. We strive to reflect the diversity of our community and our audience on our stage, and encourage actors of all types, ages, ethnicities, gender identities, and actors with disabilities to audition.
---