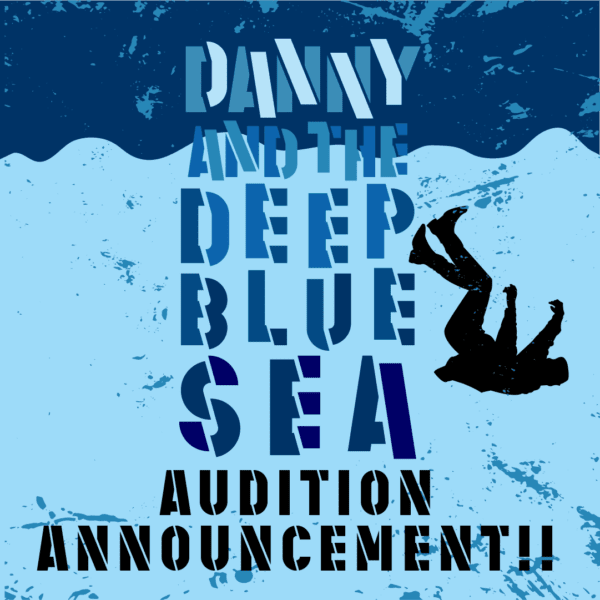 "Bag&Baggage Productions: Audition Announcement – Danny and the Deep Blue Sea by John Patrick Shanley
Bag&Baggage Productions, Hillsboro's resident professional theatre, is holding auditions for their upcoming Fall show, Danny and the Deep Blue Sea by John Patrick Shanley. Directed by TS McCormick, rehearsals begin on November 3rd, 2022 and the show opens on December 2nd, 2022 and closes on December 18th, 2022. Auditions, rehearsals and performances will take place at The Vault Theatre in Hillsboro.
About The Play:
Danny and the Deep Blue Sea is set in a rundown bar in the Bronx, where two of society's rejects, Danny and Roberta, strike up a halting conversation over their beer. He is a brooding, self-loathing young man who resorts more to violence than reason; she is a divorced, guilt-ridden young woman whose troubled teenage son is now being cared for by her parents. Danny, whose fellow truck drivers call him "the animal," seems incapable of tender emotion, while Roberta, who is still haunted by the memory of an ugly sexual incident involving her father, is distrustful of men in general. And yet, as their initial reserve begins to melt, and they decide to spend the night together, the possibility of a genuine and meaningful relationship begins to emerge—the first for both of them.
An explosive, deeply affecting study of alienation and the redemptive power of love. "…a wrenching love story that swept through the downtown Circle in the Square last night like a tidal wave." —NY Daily News. "…the play is the equivalent of sitting at ringside watching a prize fight that concludes in a loving embrace." —NY Times. "…a funny, frightening, hypnotically fascinating evening of theatre…" —Drama-Logue.
About The Playwright:
JOHN PATRICK SHANLEY is from the Bronx. He was thrown out of St. Helena's kindergarten. He was banned from St. Anthony's hot lunch program for life. He was expelled from Cardinal Spellman High School. He was placed on academic probation by New York University and instructed to appear before a tribunal if he wished to return. When asked why he had been treated in this way by all these institutions, he burst into tears and said he had no idea. Then he went into the United States Marine Corps. He did fine. He's still doing okay. He is best known for the play Doubt, a Parable, which he later drafted into the award winning feature film Doubt, starring Meryl Streep and Phillip Seymore Hoffman.
Roles Available:
Roberta: 30's to 40's. Female presenting. Gender nonconforming and trans performers welcome and encouraged. Rough around the edges. Big heart. Dreamer.
Danny: The role of Danny has been cast.
Compensation:
All roles will be paid as hourly employees no less than $2160 in two installments. We are not able to offer roles to AEA represented actors.
How to be considered for an audition:
Email your current resume and headshot to auditions@bagnbaggage.org before 5pm on October 1st, 2022.

We prefer your resume to be in .pdf format and your headshot to be in .jpg format, not to exceed 1mb in size (a small, color jpg version of your headshot is fine).

Successful actors will be notified by email with a link to our audition calendar and you may select any available slot that works for you.
If selected to audition:
You will receive an email inviting you to audition by Thursday October 6th.

Auditions will take place during the daytime on Saturday October 8th and during the evening on Sunday October 9 (times to be determined).

Each selected actor will be given a 20-minute slot for their audition.

Please prepare 2 contemporary contrasting monologues.

Please be prepared to read sides.

Each actor will be given a few minutes to ask/answer questions about the show, your process, how you work with directors and other actors, etc.
A few important things to note for actors interested in securing an audition time:
All auditions will be by invitation only; please be aware that we have a limited number of roles available and although we truly do appreciate your interest, you may not fit our needs at this time.

We are not able to accommodate times outside of the audition schedule.

Auditions, rehearsals, and performances all take place in Hillsboro, located approximately 20 miles west of Portland. Our rehearsal and theatre space is located just 2 blocks from the MAX line; however, for some actors based in Portland, this commute can be problematic. Please consider the travel time required for working with us prior to submitting your resume."
About Bag&Baggage:
Since its inception in 2005, Bag&Baggage Productions has produced more than 70 full-scale theatrical productions and has performed for audiences of more than 200,000. What began as a traveling company, staging shows all over Oregon in communities that lacked access to live professional theatre, has since evolved into a full-fledged arts organization with our own permanent venue in Downtown Hillsboro: The Vault Theater, which stands on the traditional lands of the Kalapuya, Atfalati, and the Confederated Tribes of Grand Ronde. B&B continues to be a leader in arts and cultural offerings in Washington County, striving to present the finest theatrical experiences that engage the breadth of our community. B&B's current mission is to unpack the stories we carry with us — from anecdotal to epic; from original to classic — using these as the groundwork to create transformative theatrical experiences that explore our shared humanity. We produce an annual slate of five shows, in addition to hosting an array of other performing arts experiences at The Vault.
As a predominantly white institution located in a state that has a history as a "white haven" founded on anti-Black and anti-Indigenous practices, our theatre company has traditionally been dominated by the white narrative – privileging white bodies, voices, practices, policies, and experiences above all else – and we know we have much work to do. We value this work of dismantling white supremacy throughout our organization and beyond, and we seek to have our policies, practices, and art reflect our commitment to antiracism. To learn more, visit www.bagnbaggage.org/wsywat-bnb-response.
---
Bag&Baggage hires actors on a show-by-show basis as needed throughout the season, and show-specific audition details are posted on this page when available. If you are interested in submitting for consideration, please upload your headshot and resume below.
B&B annually attends the PATA General and PATA Unified Shakespeare Auditions, and offers a limited number of AEA contracts throughout the season. We strive to reflect the diversity of our community and our audience on our stage, and encourage actors of all types, ages, ethnicities, gender identities, and actors with disabilities to audition.
---