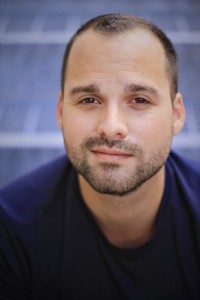 I'm an actor. I've never hesitated to say it and I certainly won't start now. To the core of the last nerve of everything I have inside of me, I'm an actor. I take pride in the statement, the title, the work. And someday when I die (if I ever do…) I want to be known as a hard working actor, an actor's actor, an actor that leaves it all on the boards night in and night out. That's the goal. That's the dream. There in lies the work.
For the first time in my life I'm not just an actor. I'm a father, a husband, and a brand new Oregonian. If you were to tell me a year ago that I would be married with a child and living on the opposite coast of everything I ever knew I would have told you to that I didn't have time to hear your nonsense because I have a script to read and re-read and re-read.
But here I am. After moving from the greater Boston, MA area and leaving my NH seacoast theatre scene behind, I took a job in Portland, Oregon with the wind at my back and the taste of an unknown destiny on the tip of my tongue. One of my first nights out on the town I saw a girl looking at me, smiling, about 30 feet away. I could have stayed where I was and sipped on my house red, but why play it safe? I sat down next to her. 4 weeks later we were married. Ten months later we had a beautiful baby girl. Meanwhile I was offstage, completely removed from the Theatre- my church, my sanctuary. Sometimes life just happens. Right?
The opportunity to return to the Theatre in an outdoor setting is nothing short of perfect for an actor. A couple of bad rehearsals are certain to force you to look in the mirror. Who are you? Why do you do this again? Why must you continue to feed the parasite? I'm still searching for the answer.
Theatre outdoors in comparison to theatre indoors is like being… naked. It's an acoustic guitar that will show your every mistake and flaw as opposed to when you've been playing out of an amp and hiding all the ugly stuff. The air sucks up your voice. The harder you push the harder the air works against you. Meanwhile remember to pick up cues, count syllables, nail the scansion, stay in style, entrance is coming, quick change here… All the extensive physical and vocal training doesn't matter now if you can't somehow pull it out from the deep dark depths of your gut and the intangible corners of your mind. Every book that sat on the shelf and collected dust won't do you any good even if you brush it off and read it over and over again.
How do you do it? You just do. You build it. You fail a hundred times before you succeed once. You start with a brick, and hopefully you end up with a cathedral. Find your breath, ignore the aches and pains of getting all the muscles back in synergy with the rest of who you are and work through it.
Before Richard III, the last play I performed in was Six Characters in Search of an Author by Luigi Pirandello. I knew that I would be moving and that it would perhaps be sometime before my next show. The button on the ending of Six Characters was the "actors" and the "characters" exiting in a very metaphorical fashion that was to imply leaving the Theatre, the play, the world of the play and all that is compiled in its universe.
I can't begin to explain how good it feels to walk back into it. The theatre, the play, the world. So there it is. Naturally, Richard III has become a personal one for me. See you out there.
"O bloody Richard! Miserable England,
I prophesy the fearfull'st time to thee
That ever wretched age hath looked upon.—
Come, lead me to the block. Bear him my head.
They smile at me that shortly shall be dead."