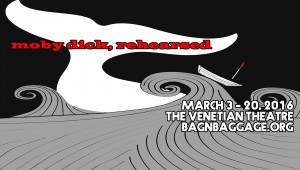 Bag & Baggage Professional Theatre Opportunities for Students
Bag & Baggage Productions, Hillsboro's resident professional theatre troupe, has several exciting opportunities available for students.  Their PASSPORT program allows for any high school student with a valid ID card to attend any production free of charge.  They also offer paid internships during each of their productions, and they are once again providing a unique Pre-Professional Theatre program that will allow five young actors to join the cast of the troupe's March 2016 production of Orson Welles' Moby Dick, Rehearsed.
Students who are interested in auditioning for the Pre-Professional Theatre program should first plan to attend a free audition workshop on Tuesday, December 1, 2015, from 6 to 7:30 p.m. at the Venetian Theatre (253 E. Main Street, Hillsboro).  This workshop is open to any high school student from Hillsboro who wants to learn more about how to audition for professional acting roles.  No registration is required; students should simply arrive just before 6 p.m. ready to learn and have fun!
Second, interested actors who are either juniors or seniors during the 2015-16 school year will be asked to apply for an audition slot either at the audition workshop or by e-mail before December 10.  Auditions will take place on the evening of Monday, December 14, and will be scheduled with the applicants directly.
Students who are interested in crew positions (must also be juniors or seniors) can apply by submitting a short letter of interest to Bag & Baggage Company Stage Manager Emily Trimble by December 1.  In the letter, please identify what area of production you are interested in learning and what experience you've had working on theatrical productions with your school or other theatre groups.  Interviews will be scheduled in December.
For more information about the PASSPORT program, internships, or Pre-Professional Theatre program, please contact Professional Development Program Coordinator Cassie Greer.