BAG&BAGGAGE MASSACRES THE GRANDDADDY OF ALL HOLIDAY SHOWS IN A KBNB KRISTMAS KAROL, THE FINAL SHOW IN THEIR 1940S RADIO SPOOF TRILOGY
HILLSBORO, OR – It all started three years ago with some rum soaked fruit cake and a missing sound effects artist. It went even further last year when a mob boss took the entire cast hostage and they were saved by the world's most effeminate NY police detective. Now, it all comes to a dizzying, delightful, and disastrous end when a greedy television network executive, a psychopathic sister, and a German post-modern film director join forces with the cast of KBNB Radio Classics to massacre all three Ghosts of Christmas live on air!
Bag&Baggage presents A KBNB KRISTMAS KAROL, the final show in the company's critically acclaimed 1940s Radio Show Spoof Trilogy. Dramatizing the fictional escapades of a group of accident-prone 1940s radio actors, A KBNB Kristmas Karol follows on from 2013's It's A (somewhat) Wonderful Life and 2014's A Miracle on 43rd Street, bringing the journey of the cast of KBNB Radio Classics to an explosive, hilarious, and heartwarming end.
A KBNB Kristmas Karol tells the story of a group of 1940s radio show actors who, on Christmas Ever, are preparing for a live broadcast of Charles Dickens' classic A Christmas Carol. They arrive at the studio to find all of their props, sound effects, scripts and furniture have vanished, only 20 minutes before they are to go live on air.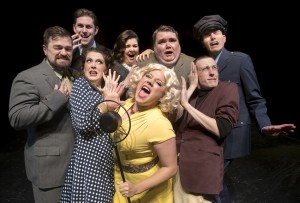 When a greedy television network executive arrives, with a few friends in tow, he forces them to do the broadcast anyway – including having to make up all the sound effects and try desperately to remember the plot, characters and dialogue from Dickens' novel from memory.
Performances take place from November 27th through December 23rd at the Venetian Theatre in downtown Hillsboro, and more information can be found online at www.bagnbaggage.org.
"After two years of inventing hilarious sound effects, sight gags, puns and chaos, I wasn't sure we'd be able to come up with anything new," said Scott Palmer, Bag&Baggage's Founding Artistic Director and adaptor of A KBNB Kristmas Karol. "I was 100% wrong. Working with these veteran actors has enabled us to double down on the comedy and find brand new was of skewering a beloved holiday classic."
Gary Strong, who has played KBNB Radio Classics' manager Winston Whiteside since 2013, said, "These shows are a little bit like running a decathlon – I not only play Winston, I'm also the narrator, the Ghost of Christmas Present, three other minor characters, and we have to sing the jingles, do the dance choreography, learn our fight choreography and…oh yeah…do all of the sound effects, too. It is complete madness."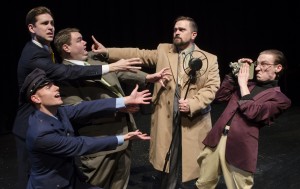 Last year's production of A Miracle on 43rd Street was called "one of the funniest holiday shows I have ever seen" by OregonArtsWatch and the Oregonian said, "after seven years, Bag&Baggage has become expert holiday spoofers." This final show in the trilogy will introduce three new characters to the comedic mix; Arthur Adams (played by Bag&Baggage Resident Actor Peter Schuyler), a television network executive with plans to demolish the radio studio on Christmas eve; Laverne North-Berkshire (played by Bag&Baggage Resident Actor Jessi Walters) as the scheming younger sister of Lana, one of the stars of KBNB Radio Classics; and Heinrich Huber Hauffman (played by Phillip J Berns), a post-modern film director planning his first television show in the new studios.
"This is my first Bag&Baggage Christmas show, and it is a wonderfully wild ride," said Walters who recently appeared in Bag&Baggage's The Best of Everything and The Six Gentlepersons Of Verona. "It is fast, furious, and absolutely hilarious. The best thing is that our audiences don't need to know what came before because this show works as both a sequel and as a stand-alone. Sure, people who know the first two may get some of the references, but everyone will still be howling in their seats."
Other performers include Bag&Baggage Resident Actors Jessica Geffen as Lana, Andrew Beck as Donald, Clara Hillier as Felicity with Portland-based actor Jeremy Sloan returning as Officer Gilroy Gildersleeve.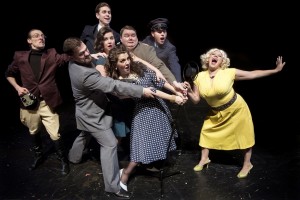 As part of the run, Bag&Baggage is partnering with The Backpack Project, a non-profit organization based in Hillsboro that provides much needed food assistance to economically disadvantage families during the holidays. B&B are asking all patrons to bring a donation of food (particularly peanut butter, dry cereal, or canned fruit) with them to the performance.
Tickets, performance dates and times, and information on The Backpack Project can all be found online at www.bagnbaggage.org.
# # #
ABOUT BAG&BAGGAGE PRODUCTIONS: Bag&Baggage Productions is Hillsboro's only professional theatre company. Based at the historic Venetian Theatre in downtown Hillsboro, B&B is committed to innovative and provocative new interpretations of the classics of American and English drama, bringing surprising new insight to stories and writers from our past. Led by Hillsboro native Scott Palmer, B&B is one of the largest non-profit cultural organizations in Hillsboro, has gained an international reputation for excellence and regularly attracts audiences of more than 18,000 to the company's six-show season.
Calendar Listings:
A KBNB KRISTMAS KAROL
Adapted and Directed by Scott Palmer
November 27, 28, 29 & December 3, 4, 5, 6, 10, 11, 12, 13, 17, 18, 19, 20, 21, 22, & 23 (2015)
Thur/Fri/Sat at 7:30pm and Sunday at 2:00pm
Additional Performances On December 21, 22 & 23 at 7:30pm
The Venetian Theatre
253 E Main Street, Hillsboro 97123
Tickets: $18 – $32 depending on night and seating section
Box Office: 503 345 9590 or online at www.bagnbaggage.org