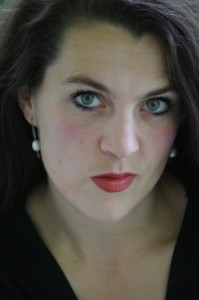 I love Christmas, always have, ever since my many years of Nutcracker performances both onstage and in the basement of my house for my "lucky" family. Christmas also means the excuse to watch "White Christmas", "The Nutcracker" and "Miracle on 34th Street" openly and perhaps even multiple viewings!
This holiday season, I get the wonderful chance to bring "Miracle on 34th Street" to life onstage with some incredible performers and work on those comedic skills as well in the craziness of the radio play.
My two main roles are extreme opposites in personality and style but quite similar in their private lives.
Felicity Fay Fitzpatrick is a Diva in every sense of the word, focused on the only important person in the world, herself…and she will let you know that as often as possible. In preparation for Felicity, I've been researching all my favorite strong, proud and loud Divas of the screen and stage: Elaine Stritch, Bernadette Peters, Bette Davis, Katharine Hepburn, and adding in characters from Clue (mainly Mrs. White) and Norma Desmond from Sunset Boulevard. Felicity is a glamorous lady in red, always showcasing her Million Dollar voice and dance training, but with the unaware and sadly ditzy heiress attitude of Katharine Hepburn in Bringing Up Baby.
Doris Walker, the mother in Miracle on 34th Street, is anything but ditzy, egocentric and glamorous. She is a single mother in the 1940s, uptight but well meaning, and focused on a realistic life motivated by common sense. She may be Kris Kringle's greatest challenge yet and her fights of Common Sense versus Faith have become my greatest challenge for this show.
Both women are tackling the challenges of being strong minded single career women in the 1940s. They don't want to just settle for the guy and happily ever after, they want the honesty and trust from the guy to show that love is worth the fight. Hopefully both ladies will find all they dream of and allow the Christmas spirit to help them find it.
See you at the theater!
Clara-Liis Hillier
Resident Actor
Felicity Fay Fitzpatrick