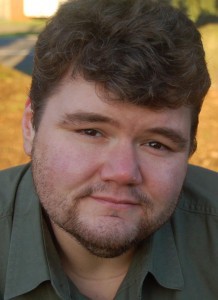 I get to play Kris Kringle for our Miracle on 34th Street Radio show. I realized right away this entire character would come down to one simple and yet essential piece of Santa iconography, the Ho-Ho-Ho. A good Santa Ho starts with the belly, it comes deep down inside your body resonating through your chest before busting out of you with the excitement of a child waking up on Christmas morning. After extensive practice I realized fairly early off that the old poem was right; my belly does jiggle like a bowl full of jelly.
That reminds me, time to head back to the gym.
I studied a few of the great Santa's of our lifetime in preparation for this role. I scowered the classics: Rudolph, Miracle, Christmas Story, Santa Claus is coming to Town, Elf… and then I dug deeper into the not so common Lifetime movies such as Call me Claus, or Dear Santa; my desperation even led me to the horrible classic Santa Claus versus the Martians.
Boy, does that Kringle get around.
There is a certain quality to Santa's voice that I wanted to capture for the show. It has to be bold and deep, yet kind and reassuring. He is an older man, but still maintains that child-like quality of wonder. Kringle is nearly always happy and you can tell that in his voice. There is the hint of a smile in almost everything he says, and the audience needs to hear the twinkle in his eye when he asks children what they want for Christmas.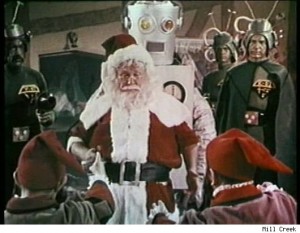 Kringle is the epitome of everything Christmas, so much so that I hope people feel a little nipping at their nose whenever he speaks.
Apart from creating Kringle, I think the most fun I've had during this rehearsal process is the backgrounding. Throughout the radio show we are whisked away via time travel music to different locations. Sometimes we are in busy offices or crowded department stores, bars, courtrooms, or even outside in New York City watching the Thanksgiving parade go by.
We are able to make some pretty interesting backgrounds for these scenes. They each have a life of their own.
We just got through working on a particular bar scene where we created an entire Christmas Jazz theme. I get to play an Emcee announcing musicians, going around taking drink orders, asking about that weird court case, and applauding when our singer is finally finished.
This entire background of sound happens for a scene that is less than 2 minutes of actual stage time, but the level of detail and precision that all of the actors bring into these moments is remarkable. It is exciting to work with such talented actors who put as much thought and work into the 30 seconds of background noise as I am.
Gary Strong
Resident Actor
Winston Whiteside & Kris Kringle in Miracle on 43rd Street