BAG&BAGGAGE CROSSES THE LINE INTO WESTERN WASHINGTON COUNTY VIA MAJOR NATIONAL GRANT AWARD
Hillsboro's Resident Professional Theatre Is One of Only Seven Theatres Nationally Awarded Funds In The Highly Competitive MetLife/TCG A-ha! Program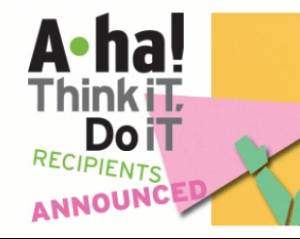 Hillsboro, OR – Theatre Communications Group (TCG) announced the sixth round recipients of the MetLife/TCG A-ha! Program: Think It, Do It program today and Hillsboro's Bag&Baggage Productions was among the seven theatres from across the nation awarded funds. The program, administered by TCG (the national organization for American theatre) and funded by the MetLife Foundation, is specifically designed to fund groundbreaking approaches to artistic or managerial challenges and opportunities. Seven theatres were awarded grants totaling $250,000 to either research new ideas or experiment with and implement innovative concepts. There are two components to the program: Think It (which is focused on research and program development) and Do It (which funds implementation of specific programs).
Bag&Baggage Productions, which recently began its Sixth Season as Hillsboro's resident professional theatre, was awarded a $25,000 Think It grant to research ways to connect the work of the theatre to rural audiences west of Hillsboro. Targeting 6 communities (including Cornelius, Forest Grove, Gaston, Banks, Yamhill, Carlton and Vernonia), the grant provides funds for detailed research into barriers to access to performing arts for smaller communities west of Hillsboro and to develop new methods of outreach to those communities.
"The recipients of the sixth round of the A-ha! Program exemplify MetLife Foundation's commitment to building strong communities through the arts," said Dennis White, president and CEO, MetLife Foundation. "We are proud to be part of this partnership with TCG and serve as a catalyst for the creativity and risk-taking that are essential to the growth of the not-for-profit theatre field."
Other grant recipients include the Children's Theatre Company in Minneapolis, Golden Threat Productions in San Francisco, the National Black Theatre in New York, Center Theatre Group in Los Angeles, The Playwright's Center in Minneapolis and the Young Playwright's Theatre in Washington, D.C.
"We are obviously thrilled," said Scott Palmer, Artistic Director of Bag&Baggage Productions. "Not only are we proud to be included in such an incredible group of theatres, but we are proud to have our efforts at connecting with our neighbors and friends throughout Washington County recognized by both TCG and MetLife."
The grant applications were reviewed by an independent national panel of theatre professionals comprised of Mark Clements, artistic director, Milwaukee Repertory Theater; Rachel Grossman, ring leader, dog & pony dc; Charles Varin, managing director, Denver Center Theatre Company; Amanda Thietje White, managing director, Mixed Blood Theatre; and Stephanie Ybarra, artistic associate, The Public Theater.
"This award is a powerful vote of confidence for Bag&Baggage, one that truly helps raise our profile within Washington County but also nationally, " said Anne Mueller, Bag&Baggage's Managing Director. "Bag&Baggage is making a difference and that is being celebrated and honored here in Hillsboro and across the nation."
"We are deeply committed to bringing live theatre to the residents of this community," said Palmer, who is a native of Hillsboro. "There are thousands of people living within just a few dozen miles of our theatre who have little to no access to professional performing arts. This grant will go a long way toward helping us do something about that."
# # #
For more information about the program and previous recipients, visit: http://www.tcg.org/grants/aha/aha_recipients.cfm.
To read reports from the sixth round of recipients, visit: http://www.tcgcircle.org/category/metlifetcg-a-ha-think-it/.