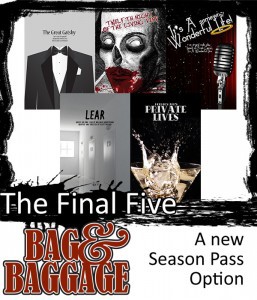 Our first show of the season is over and it was an incredible, enormous success! Julius Caesar was one of our most critically acclaimed works, and hundreds of new audience members were introduced to the provocative approach that is the hallmark of Bag&Baggage!
There are five shows left in the season, all of them performed at the beautiful and historic Venetian Theatre in downtown Hillsboro! We are thrilled to announce a NEW way for you to get tickets for the remaining five shows of the season at a discount!
The Final Five Season Pass includes one ticket to each of the five remaining shows in our season at a more than 10% discount which means you can enjoy all five of our remaining shows at some of the lowest prices of the year.
The Final Five: General Admission Pass: $130 (regular price $146, you save $16)
The Final Five: Student/Senior Pass:  $107 (regular price $119, you save $12)
Your pass includes one ticket in the premiere section for ANY performance of each of the following shows:
The Great Gatsby by F Scott Fitzgerald (September 26 – October 20, 2013)
Twelfth Night of the Living Dead by William Shakespeare and Brian McInnis Smallwood (October 26- 31, 2013)
It's A (somewhat) Wonderful Life by Frank Capra, adapted by Scott Palmer, November 27 – December 23, 2013
Lear (based on King Lear) by William Shakespeare, adapted by Scott Palmer, March 6 – 23, 2014

Private Lives by Noel Coward, May 8 – 25, 2014
Join us for a season of laughter, tears, betrayal, love and loss at some of the lowest prices of the year!
This offer is ONLY good until September 26, so make sure you buy your Final Five Season Pass soon! Click here to purchase!