Hillsboro high school students taking internships with Bag&Baggage Productions aren't just killing time until graduation or trying to get out of school early. They're stepping into their passions with both feet, immersed in the performing arts while they gain professional experience for the first time.For some, their internship serves as a confidence builder and a nice resume addition. But for many others, it catapults them into the start of something that defines their careers and passions.
For Ali Strelchun and Madeline Ogden, their internship at Hillsboro's Bag&Baggage has set them up for a life in the theater.
"I loved it," Strelchun said. "It was a new taste of theater; it was eye opening to what was happening in a more professional setting."
During her senior year before graduating from Glencoe High School last month, Strelchun worked backstage on Bag&Baggage's productions of "The Crucible," "Six Gentlepersons of Verona" and "Our Country's Good." She worked in lighting design, which she quickly fell in love with.
"'The Crucible' opened my mind to using minimalism and projection," Strelchun said. "Definitely, working with that group kept me inspired. I like being able to work magic."
The inspiration didn't leave her after the internship ended. Strelchun just finished presenting samples of her work at the International Thespian Festival in Nebraska and is set to attend Webster University in Missouri, where she hopes to gain the skills to one day be a resident scenic designer for a theater company.
It's this kind of opportunity and inspiration Bag&Baggage hopes to provide every student who's interested. But right now, they're turning people away there's so much interest, said Bag&Baggage Artistic Director Scott Palmer.
That's why Bag&Baggage will put on its annual gala dinner and auction to support the PASSPORT program, which not only provides internships to Hillsboro high school students but also gives free theater tickets to high school students in Washington, Columbia, Tillamook and Yamhill counties.
The price tag of this year's donated materials is greater than ever before. Palmer and his Bag&Baggage crew are hoping to raise enough money to fund a year-round, part-time position for managing the PASSPORT Program. "The demand has gone through the roof," Palmer said, and they cannot keep up with the demand.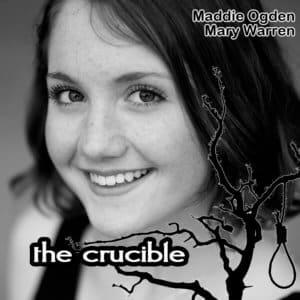 Like Strelchun, Ogden is pursuing a theater education this fall as well, inspired by her time acting with the professionals at Bag&Baggage. She played Mary Warren in last fall's production of "The Crucible."
Westside Theatre Reviews Tina Arth and Darrell Baker said she was "superb in her pivotal role, riding the roller coaster of her character's many emotional transformations with passion and a clear understanding of the part."
She'll be attending Chapman University in California, where she'll enter into the theater performance program.
The internship "definitely influenced me and helped me know how passionate I am about this," Ogden said. "When you tell people you want to be an actress they assume you'll be a waitress, but this is what I'm meant to do with my life, and this experience was just confirmation of that. It's worth everything."