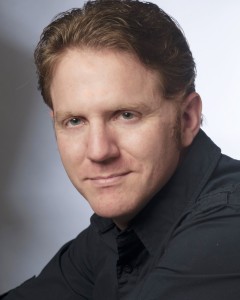 It's a little bit intimidating. I'm a new resident actor for Bag & Baggage and this is my first show with the company, and my what a show it is! In a lot of ways it feels like a test, a chance to prove my metal. This is Richard III, one of Shakespeare's greatest and most renowned plays. Even if it was a traditional proscenium performance it would be a daunting task, but this is anything but a traditional performance. This is a once in a lifetime chance to do something unique and truly memorable. This is Richard's story as he would have it told. It's poignant, and it's funny as hell.
First hurdle to cross: The style. I've never done a style play before and to be honest I had no idea as to how to approach it. It's easy to think that the style is a comedic convention to simply layer on top of the performance but I have learned in these first weeks of rehearsal that it is the heart of a valid delivery of this show. The style is the foundation, the bedrock from which character is derived and the story told. If style is the foundation, character the support structure and story the walls, then comedy is the final edifice. The trim and paint that catches the eye and draws us in for a closer examination of the structure.
To be honest it took me a while to realize this and I'm still not anywhere near as comfortable in the style as I need to be, though I'm getting there. So much of it is anathema to naturalist acting instincts. I love a challenge though. Any chance to step outside of your comfort zone is a chance to grow and find new rewarding depths.
My characters are well outside that comfort zone for me and that couldn't be more exciting. Clarence is Richard's brother and his first hapless victim. He's a quibbling coward and a fool. I can't stand him, and am reveling in him!
The young Prince Edward is the most insufferable child you can imagine. He's not just stupid, he's entitled. It's like playing a spoiled, rich young idiot who knows that in all likelihood and beyond all reason he'll probably be president someday. Of course, he has no idea what Richard has in store for him.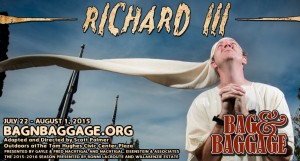 Once again, it is the style that allows me to have the most fun with these people, and tell their story through Richard's eyes.
The second hurdle: Doing all of this outdoors. I already have to step into an new way of acting, of finding character, telling a story and delivering laughs. Now I have to learn to do all of this while exposed to the summer sun and the inquisitive eyes and ears of strangers passing by. There is no room for inhibition in theatre, but it must be cast off entirely for this show.
Lucky for me I am in good company. The direction of Scott Palmer and the support of the astoundingly talented cast are pulling this together and keeping me from screaming and running for the hills! It's gonna be one hell of show and I couldn't be more proud to be a part of it. You should really come see it.
Joey Copsey
Clarence and Prince Edward
B&B Resident Acting Company Member