KBNB's Swan Song
Westside Theatre Reviews
By Tina Arth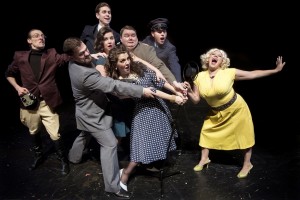 If Charles Dickens' A Christmas Carol is like a snow-covered Mt. Hood, returning annually to preside over the holiday season with predictable majesty, then Bag & Baggage's A KBNB Kristmas Karol is like Mt. St. Helens, circa 1980 – a once in a lifetime, over-the-top explosion of theatrical farce that blows away its own foundation and leaves the audience wondering "what happened?" To strain the simile a bit more, Kristmas Karol was also preceded by two smaller, but still impressive, earthquakes (the 2013 and 2014 productions of It's A Somewhat Wonderful Life and Miracle on 43d Street) which presaged what was to come but gave no real warning of the scope of the coming event. With this production, adaptor/director Scott Palmer doesn't just close the door on his holiday trilogy, he slams it shut and throws away the key.
The lights come up on the now familiar (to Bag & Baggage audiences) KBNB backdrop – but the call letters are askew, the clock is broken, and in place of the studio's furnishings the stage is littered with tattered boxes, one dangling microphone, and a snake of disconnected cable. As television is fast replacing radio as the dramatic medium of choice, this year's production of A Christmas Carolwill be the station's last gasp, and it's set to air in just 20 minutes. Producer Winston Whiteside (Gary Strong) and his oh-so-buxom bride Lana North-Berkshire-Whiteside (Jessica Geffen) arrive to find the station in disarray, and they panic, believing that the station has been robbed – not only of furniture, props, and electronic equipment, but of the scripts they need for the evening's show. When stars Donald Donaldson (Andrew Beck) and Felicity Fay Fitzpatrick (Clara Hillier) appear, we learn that Donaldson not only hasn't memorized his lines, he hasn't even opened the script and is not familiar with the story. The sudden arrival of predatory TV producer Arthur Adams (Peter Schuyler) and his odd entourage introduces another seemingly insurmountable obstacle – apparently, the KBNB folks didn't get the memo that the holiday radio broadcast had been moved to a studio in Hoboken. "The show must go on" is a nice concept, but seems unlikely until we learn that the greedy Adams is a big Scrooge fan, his "assistant" Laverne North-Berkshire (Jessi Walters) is channeling Scrooge's nephew Fred, and famous film director Heinrich Huber Hauffman (Philip Berns), despite his unintelligible Mitteleuropean patois, is capable of plugging one electrical cable into another. From the ensuing chaos somehow arises, if not A Christmas Carol, at least the Ghost of Christmas Carols past.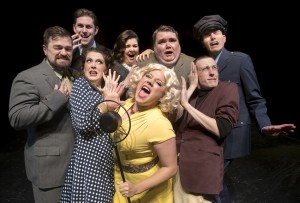 High points of the show include an abundance of riveting physical comedy (Strong must be seen to be believed), the growing enthusiasm of Hillier's impromptu jingles for sponsor Boromax, Geffen's giddy hysteria throughout, and Schuyler's remarkable transitions from slimeball to Dickensian thespian. The scene where Hauffman offers a solution to their problems, but needs fey policeman Patrick Paulson (Jeremy Sloan) to translate, is a gem that lasts long after the cacophony of the show subsides. Less thrilling (although certainly true to the intense parody of the form) are the incessant breast grabbing and the sometimes-inexplicable pants dropping. Frequently, there is just too much happening on stage to keep track of it all, and I'm sure I missed some truly boffo punch lines because I was distracted by constant chatter and activity.
The opening night audience was loaded with Bag & Baggage regulars, who had been groomed by the first two legs of the KBNB trilogy and understood the "Mr. Toad's Wild Ride" flavor of the evening. One hopes that newcomers (at least the savvy ones who are likely to populate the Bag & Baggage demographic) are able to focus and contextualize the show, find its underlying warmth, and appreciate the amazing acting company that brings such a broad and marvelous variety of theatre to Hillsboro.
Bag & Baggage's A KBNB Kristmas Karol is playing at Hillsboro's Venetian Theatre, 253 E. Main Street, through December 23, with performances Thursday through Saturday at 7:30pm, Sunday at 2:00pm, and Dec. 22-23 at 7:30pm.