BAG&BAGGAGE PRODUCTIONS ANNOUNCES NEW ACCESS AND AFFORDABILITY PROGRAM: ALL IN

Hillsboro's resident professional theatre announces a new range of initiatives to ensure all patrons can attend performances without the barriers of ticket price
Hillsboro, OR – Bag&Baggage Production, Hillsboro's resident professional theatre, has announced a new Access and Affordability program, called ALL IN, which seeks to ensure that all theatre lovers can attend performances of their critically acclaimed work without the barriers of ticket price.
"B&B has always been one of the most affordable professional theatres in the region," said Founding Artistic Director Scott Palmer, "but that doesn't mean that we are affordable for everyone. We want to make sure that anyone who loves theatre has the opportunity to see a show without having to worry about the price of a ticket."
ALL IN features a range of initiatives that give interested patrons the opportunity to get free or discounted tickets to B&B's shows. Those initiatives include a new Pay What You Will preview night, Friday Night Rush Tickets, free tickets for a range of social service groups and non-profits, participation in the Arts For All program for individuals enrolled in the Oregon Trail Card or SNAP programs, and the continuation of B&B's unique PASSPORT free ticket program for high school students.
"Our Pay What You Will preview night is as simple as it sounds," said Palmer. "A patron can simply show up at the box office for the first Thursday preview performance, make a donation in any amount, and receive a ticket. Patrons can give $5, $10, $15, or even $1 and they will receive a ticket to that evening's preview show."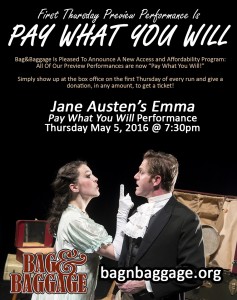 Research has indicated that Pay What You Will programs are both popular among patrons of the arts as well as good business sense for performing arts groups. "We have thought about implementing a program like this for a number of years, but were concerned that it would ultimately impact our bottom line," said Palmer. "But seeing the success of similar programs around the Portland area, and internationally, has encouraged us to take the next step."
The first opportunity for patrons to take advantage of the new Pay What You Will program is the preview performance of Jane Austen's Emma on Thursday May 5, 2016 at 7:30pm at The Venetian Theatre. "It is so simple: just come to the box office, pay what you will, and see the show. It is just that easy."
Friday Night Rush Tickets are the second new element of B&B's access program. "Rush tickets are an industry standard across the world. It basically means that you show up to the box office just a few minutes before the curtain and you can get discounted tickets for the seats that are left open for that show," Palmer said. "For us, we are going to limit the rush ticket option to our Friday night performances, and those tickets will be $10 each. Again, it is just so simple to use. Come to the box office at The Venetian around 7:15pm to check for rush tickets. Our staff will let you know which seats in the theatre are available at the rush ticket price, and you can decide if you want to get them for $10." Friday Night Rush Tickets are available for any regularly scheduled Friday night performance.
B&B has also announced that it is seeking social service provider partners to provide free tickets to individuals and families experiencing displacement, economic hardship, homelessness, or other economic insecurities. "We have worked with other non-profit groups in the past, particularly those that provide services for addiction issues, and the results have been really amazing," said Palmer. "For people in our community who are experiencing life challenges such as displacement, homelessness, or other economic crises, we want B&B to be a place where they can come to experience open, hospitable, and welcoming entertainment. We want our shows to be an opportunity to experience a sense of community and normalcy."
Among the non-profits B&B will work with are Community Action of Hillsboro, the Washington County Domestic Violence Resource Center, HomePlate Youth Services, and a number of addiction treatment organizations. "We encourage anyone experiencing these kinds of life challenges, or those people who work in social service organizations that provide this kind of help, to reach out to us. We want to work together," said Palmer.
B&B also continues to support the Arts For All program where individuals  enrolled in the Oregon Trail Card or SNAP program can get $5 tickets for any regularly scheduled performance. Participants simply contact the B&B Box Office at boxoffice@bagnbaggage.org to reserve a ticket and bring their SNAP or Oregon Trail Card with them to the box office before the show.
Finally, Bag&Baggage will continue to provide free on-demand tickets to any high school student from Washington, Yamhill, Columbia, and Tillamook county. "PASSPORT provides any high school student, either enrolled in a public school, tribal school, online academy, home school program, or educational district, a free ticket to any show on demand. PASSPORT also provides curriculum guides, in-class and out-of-class experiences, and post-show discussions for teachers from the region as well," said Palmer. Bag&Baggage has been providing free tickets to high schools for the past 7 years.
"Our hope is that the ALL IN initiative will help ensure that anyone who wants to experience the thrill of live theatre can, without having to worry about the cost," said Palmer. "Theatre changes lives, changes perspectives, and creates connection and community. Bag&Baggage wants everyone to be a part of that, no matter what their circumstances. All are welcome at B&B."
More information on the ALL IN initiative can be found online at bagnbaggage.org. Social service organizations interested in partnering on free ticket programs can contact Bag&Baggage at info@bagnbaggage.org.

About Bag&Baggage Productions: Bag&Baggage is committed to provocative, innovative interpretations of classical works of American and English Drama. Through the use of major literary adaptations and inventive stagings, the company seeks to reconnect the great works of drama to new audiences. Bag&Baggage is the only professional theatre in Hillsboro and is the resident in-house performing arts group at the historic Venetian Theatre in downtown Hillsboro. www.bagnbaggage.org.
# # #