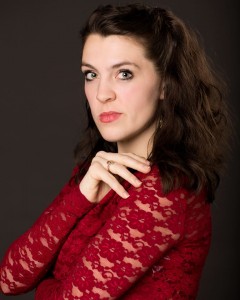 "Emma Woodhouse, handsome, clever, and rich, with a comfortable home and happy disposition, seemed to unite some of the best blessings of existence; and had lived nearly twenty-one years in the world with very little to distress or vex her." One year ago, I was reciting these lines at the Bag&Baggage 2015-16 Season Announcement…with no idea that I would be fortunate enough to be playing the role a year later. I still remember reading Jane Austen's Emma for the first time in my childhood and simply hating the character! I loved the story arc, the romance, and Jane Austen's words, but I could never get behind the seemingly vapid, busy body Emma Woodhouse. I always wanted to be Elizabeth Bennet or Franny Price, or honestly any heroine from a Jane Austen novel as long as I got to wear those beautiful clothes and attend a ball of my very own! I played dress up, I did book reports on the time period, I had Jane Austen paper dolls, I watched my VHS recording of the Jennifer Ehle/Colin Firth version of Pride & Prejudice repeatedly.Now as an adult, I obviously still do all those things (or maybe just keep watching the movies:), but my views on Emma have vastly improved. As I delve further into Emma's world in both rehearsals and daily with line work and character development, I find my first impression to be awfully wrong and short sighted. Emma is a wonderful character to jump into and explore because she is so greatly flawed. She means well by her insistent matchmaking, her head is constantly full of romantic notions and daydreams, she doesn't need or necessarily want a man to complete her life, and she does crack and become human and must grow up. Once Emma makes all her many mistakes, she has the choice to change and learn from her previous errors or further isolate herself.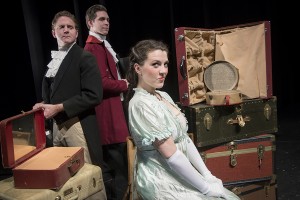 Her journey is rough but thrilling as an actor because Jane Austen is very honest about Emma's stubborn, know it all, stuck up attitude and is not afraid to let Knightley rip her apart and make her see the error in her ways. The imperfections are the juicy part of the rehearsal process and it has been a treasure to battle through them all and find the many facets to her personality. The audience does not necessarily need to "like" but I do need to get them on her side and enjoy the journey. This is a huge challenge, and I'll get back to you at Opening to see if I can make that happen. Yikes!
Our unique approach to the story of Emma places 5 friends in an attic, discovering treasures from generations past and putting on a play. This was my childhood! I was constantly performing, in costumes, writing short plays, performing The Nutcracker, forcing my stuffed animals to be audience members and more often not my poor mother and sister.
I wasn't expecting to bond so deeply to the material and the make believe world these 5 friends want to live and play in. It is an excellent reminder as to why we become actors in the first place: we are story tellers and we love to be in those other worlds, step in the lives of others and stay for a short trip. I'm thankful, excited, incredibly nervous basically every day and will continue to be so until we open this monster of a script, but it will be worth it all to share the story with audiences and create magic onstage with these four other talented, generous spirits who I am lucky enough to call not only colleagues, but friends.
Clara Hillier
Bag&Baggage Resident Actor