Tuesday, July 19, 2016
scott@bagnbaggage.org
FOR IMMEDIATE RELEASE
YES, BAG&BAGGAGE IS TRYING TO SEDUCE YOU –
COO COO CA CHOO!

Bag&Baggage Presents The Oregon Premiere Of The 2002 Broadway Smash, THE GRADUATE
Hillsboro, OR –  Bag&Baggage Productions, Hillsboro's professional theatre company, is proud to present the critically acclaimed stage play, based on the popular 1960s novel and film, The Graduate. The play, adapted from both the 1963 cult novel by Charles Webb and the 1967 film starring Dustin Hoffman and Anne Bancroft, brings the story of a young man's first disastrous sexual odyssey playfully, creatively, and sexily to life. Performances take place at The Venetian Theatre in Hillsboro from September 8 through October 2, 2016.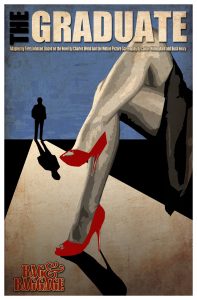 "The Graduate is a bittersweet comedy that will take audiences back in time to the beginnings of the counter-culture and sexual revolutions of the 1960s," said B&B Founding Artistic Director Scott Palmer, who also directs the play. "Given the upheaval our country is experiencing around gender, sexuality, and women's rights, this feels like a great time to go back and witness how these issues first came to prominence and how they still influence the way we live today."
In the play, recent college graduate Benjamin Braddock is back living with his parents, desperately trying to avoid the one question everyone keeps asking: What does he want to do with his life? His life takes a major turn when he is seduced by Mrs. Robinson, a bored housewife and close friend of Ben's parents. What starts off as a diversion turns into a major complication when Ben falls in love with the one woman Mrs. Robinson demanded he keep away from: her daughter, Elaine.
"Although the play is a comedy, it is also filled with powerful and relevant themes," said Palmer, who is directing the Oregon premiere of the play. "It is about misspent youth, a corrupt and decadent older generation with little concern for their children, and a growing dissatisfaction with middle-class values."
The film version of The Graduate, based on the novel of the same name by Charles Webb, was the breakout vehicle for a young Dustin Hoffman, who played Benjamin, and was directed by Mike Nicols, who instantly became a major Hollywood talent after winning the Oscar for Directing the film. The stage adaptation first appeared in London and then premiered on Broadway in April of 2002 with Kathleen Turner reprising her role as Mrs. Robinson.  The New York Times said of the show, "It is definitely fun to watch…the show gives off starlight!"
"These are such iconic, memorable characters," said Palmer. "It was really very challenging to find the right actors to step into their shoes for our production."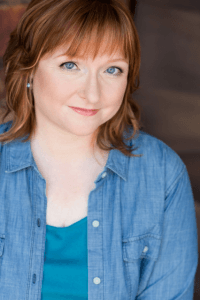 Kymberli Colbourne, most recently seen in another iconic role as Ahab in B&B's Moby Dick, Rehearsed, returns to the Venetian stage as Mrs. Robinson. She is joined by B&B Associate Artist Eric St. Cyr as Benjamin and B&B Resident Actor Arianne Jacques as Elaine. Local actor and Hillsboro Police Lieutenant Michael Rouches makes his B&B debut as Mr. Braddock, joined by other B&B newcomer Kim Bogus as Mrs. Braddock. B&B regular David Heath plays Mr. Robinson, and Resident Actors Andrew Beck and Cassie Greer appear in a variety of supporting roles. Costume designs are by Melissa Heller, Scenic Design by Megan Wilkerson, and Lighting Design by Jim Ricks-White.
"This is a very adult play," said Palmer. "It not only includes a lot of very serious commentary but it also has a lot of adult humor, including a few scenes with brief nudity. We encourage our audiences to think carefully before bringing students or kids to this show."
Performances take place every Thursday, Friday, Saturday, and Sunday from September 8 – October 2, 2016 at The Venetian Theatre in downtown Hillsboro. Tickets are available online at bagnbaggage.org or by calling the box office at 503 345 9590. The first Thursday performance, September 8th, is a Pay What You Will performance and audiences may simply show up at the Venetian prior to the show and make a cash donation in any amount, for that evening's show. More information can be found online at bagnbaggage.org.
# # #
Calendar Listings:
The Graduate
by Buck Henry, Terry Johnson, Charles Webb & Calder Willingham
Directed by Scott Palmer
The Venetian Theatre
253 E Main Street, Hillsboro, OR 97123
Thursday, Friday, Saturday at 7:30pm and Sunday at 2:00pm
September 8, 9, 10, 11, 15, 16, 17, 18, 22, 23, 24, 25, 29, 30; October 1, 2, 2016
Tickets: 503 345 9590 ext. 1  or bagnbaggage.org
Magazine Series Pre-Show Lectures: each Friday from 6:30 – 7:00pm at The Venetian
Meet The Cast Post-Show Discussions: after each Sunday matinee, immediately following the performance