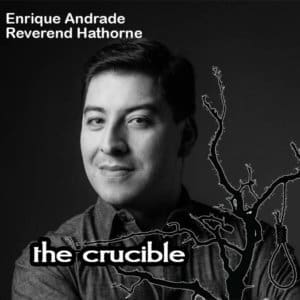 When I was first invited to audition for Bag & Baggage's upcoming production of The Crucible by Arthur Miller, I was ecstatic.
On a very personal level it has been a goal of mine to perform with Bag & Baggage for a long while now.  Not only for the high quality of their work, but also because the Venetian and the Bag & Baggage's offices are within walking distance from my work.  I am now able to enjoy a wonderful meal at the Venetian, with time to spare before rehearsals start in the evening.  It is the first time in my acting career that I can have a decent meal before rehearsal, like civilized actors should.
As a Court Certified Spanish Interpreter in the Washington County Circuit Courts for the Oregon Judicial Department I have both the privilege and the horror of seeing the extremes of human nature in the courts.  It is of particular serendipity that my first play with Bag & Baggage is The Crucible, for it's courtroom scenes are very familiar to me.
Not to say that we prosecute witches in Washington County in 2014, but we often see people in court that are caught in a whirlwind of confusion and unfortunate circumstances which puts them into a collision course with the law.  As we began to dive into the nature and richness of the work it struck me that our modern judicial system is still susceptible to hysteria and well rehearsed lies.
To be clear, I believe in the work and mission of the courts, and all the supporting agencies which make our society safe, but we must always be vigilant and weary of the power that the law has over the individual.  Especially when the power of the law is wielded by individuals drunk with it's power, or committed to bend and shape evidence to fit their own theories and stories.  Whether a person is a defendant, or a victim in the system it is clear to me that the law will never "fix" or "make whole" someone who is consumed with vengeance.  Just like Arthur Millers cautionary tale, the law has different plans and resolutions than what an individual would want them to be.
My character in The Crucible, Judge Hathorne, is blinded by the hysteria and hyperbole of the accusing girls.  Judge Hathorne, is what we might call a 'hanging judge' since throughout the play anyone that gets in his way is soon finding their way to the gallows.  Give a normal man some power he is dangerous, but give a stupid man power he is catastrophic.  Such is my impression of Judge Hawthorne.
The commitment and talent of the cast and the Bag & Baggage company has made this rehearsal process a delightful challenge of discovery, commitment, and delicious uncomfortableness.  I invite you to come, see, and feel the tension and drama…especially, as I would like to paraphrase what our director Scott Palmer says, "in your nether regions"!
Enrique Andrade
Judge Hathorne