Still-relevant 'Crucible' honors youth, classic tale
Created on Friday, 29 August 2014 01:00 | Written by Joann Boatwright, The Hillsboro Tribune
---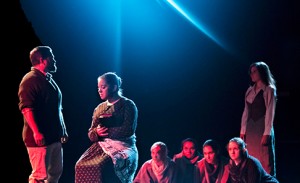 Bag&Baggage Productions' upcoming show, Arthur Miller's "The Crucible," will be presented in honor of Silverna Scott, a recently retired theater teacher at Hillsboro High School. Scott has not only fostered theater appreciation in her students, said Scott Palmer, Bag&Baggage founder and artistic director, but has instilled a high level of professionalism and seriousness in high school actors and stage technicians.
"The level of professionalism, dedication and hard work is remarkable in students that age," said Palmer, who also is an alumnus of Hilhi's theater program.
Scott and Palmer have worked together over the years, with Scott inviting Bag&Baggage actors into her classroom to talk about their work, especially when they've taken on a Shakespearean production.
"She's not just a teacher," Palmer said, but is an advocate for her students, dedicated to exposing them to live theater. Bag&Baggage helps out by offering free tickets to area high school drama students as part of its educational outreach program.
Scott's students have not only seen professional theater, but often apply for Bag&Baggage internships and to assist backstage, Palmer said.
Friends and colleagues of the retired teacher have raised more than $2,500 to sponsor an ongoing internship award in her honor: the Silverna Scott Professional Theatre Internship award. The award provides one student from Hillsboro High with a paid professional internship with Bag&Baggage each year.
"The Crucible" is a Tony Award-winning play that addresses questions of paranoia and mass hysteria based on accusations of witchcraft that led to the deaths of dozens of innocent people in Salem, Mass., in the late 1600s.
Miller wrote "The Crucible" not only as a dramatization of the historical events of the Salem witch trials, but also as an allegorical examination of the politically inspired Communist "witch hunt" of the 1950s McCarthy era, Palmer said.
"'The Crucible' speaks to our modern times so clearly, so concisely that it is almost hard to believe it was written more than 60 years ago," he added.
Palmer and cast members have been thoroughly discussing how this piece — centered on religious extremism, fear and persecution — relates to national and international current events. Palmer cited the uproar in Ferguson, Mo. as an example. "The fear of the other, the blaming and finger pointing, and the not listening to others," Palmer said, run as common threads in Ferguson and in "The Crucible."
This production of "The Crucible" will be presented by 20 on-stage actors, the largest cast in Bag&Baggage history, including several local high school actors.
"The young accusers in Miller's play are crucial to the story and the plot," said Palmer, who is directing the production and working with B&B resident acting company member Cassie Greer to provide professional training to the student actors.
"The opportunity to work with six young actors who are the same age as the characters in Miller's story is a unique challenge for everyone involved," Palmer added.
The production is funded in part by grants from The Ritz Family Foundation, The Reser Family Foundation and the Hillsboro Art and Culture Council. That funding supports Bag&Baggage's Pre-Professional Training program for young theater artists from Hillsboro high schools. Students from Hillsboro and Glencoe high schools have been chosen to participate in the production of "The Crucible" both on stage as actors and back stage as production crew members.
The cast features B&B resident company actors Peter Schuyler, Arianne Jacques, and Jessica Geffen, and Portland-area actors, Jake Street, David Heath and Michael Streeter.
"The Crucible" opens Sept. 5 and runs through Sept. 28. Thursday, Friday and Saturday performances are at 7:30 p.m. and Sunday matinees are at 2. A preview performance will be Sept. 4 at 7:30 p.m. Tickets range from $18 to $30 and are available at bagnbaggage.org or from the box office, 503-345-9590.
All performances are at The Venetian Theatre, 253 E. Main St. in Hillsboro.