THE ENVELOPE, PLEASE?
HILLSBORO GOES HOLLYWOOD

Bag&Baggage Presents Their Annual Glitz And Glamour Oscar Viewing Party, Hillsboro Goes Hollywood, With Thousands Of Dollars In Prizes
HILLSBORO, OR – For the sixth year running, Hillsboro's resident professional theatre company Bag&Baggage Productions is hosting an evening of ball gowns, tuxedos, costumes, cocktails, film and fashion at Hillsboro Goes Hollywood, an annual Academy Awards Viewing Party. The event begins at 4:00pm on February 28nd with televised coverage of the Academy Award's Red Carpet followed at 5:00pm by the Oscar broadcast on the Venetian Theatre's big screen.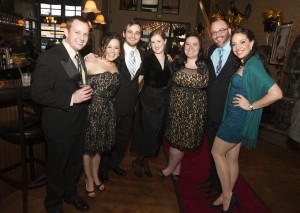 Emceed by B&B's Artistic Director Scott Palmer, Hillsboro Goes Hollywood has become an annual tradition for hundreds of people who dress up in their finest red carpet attire or come dressed as their favorite star or film character, all in hopes of winning the coveted "best dressed" award. Audiences will also have a chance to fill out an Oscar ballot and whoever guesses the most winners receives the grand prize.
"This is an incredibly fun event," said Palmer, who has hosted every Hillsboro Goes Hollywood since the event started. "And this year we have added even more activities for our audiences, including paparazzi on the red carpet, a Joan Rivers-style fashion critique and Red Carpet interviewers, and prizes for the best acceptance speech. People really pull out all the stops and get dressed to the nines."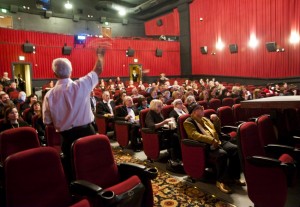 Prizes include overnight stays at Hotel Modera, wine from local Willamette Valley wineries, chocolates, DVDs of Oscar nominated films, tickets to Cinetopia, and dinner packages from Portland area restaurants. All told, more than $3,000 worth of prizes will be awarded throughout the evening. The Venetian Theatre's bar staff also prepare a series of special Oscar-inspired cocktails for the occasion.
Hillsboro Goes Hollywood takes place at the Venetian Theatre (253 E Main Street) on Sunday, February 28th and tickets are $15. More information online at www.bagnbaggage.org.
# # #
Calendar Listings:
Hillsboro Goes Hollywood – 2015
Sunday, February 28, 2016
4:00pm – Red Carpet Coverage
5:00pm – Oscar Broadcast Begins
The Venetian Theatre – 253 E Main Street- Hillsboro, OR 97123
Tickets: $15Box Office: 503 345 9590 or online at www.bagnbaggage.org