One of the Pacific Northwest's Largest Charitable Foundations Awards Hillsboro Theatre Major Challenge Grant Award
HILLSBORO, OR – The Collins Foundation, an independent private foundation created in 1947 by Truman Collins Sr., has awarded Hillsboro's resident professional theatre company, Bag&Baggage, a $60,000 challenge grant. The grant is specifically earmarked to provide a dollar for dollar match for any donation to the theatre's EVOLUTION Capital Campaign made between February 16th, 2016 and December 15th, 2016.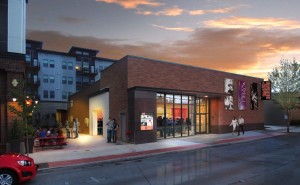 Bag&Baggage, with the support of the City of Hillsboro, recently purchased a former Wells Fargo bank building in downtown Hillsboro and is engaged in a $1.4million capital campaign to refurbish the space into a 160 seat studio theatre that will act as the company's permanent artistic and administrative home.
The Collins Foundation award will match any donation from individuals or businesses dollar for dollar, with no limitations on the amount, as long as those donations are for capital campaign costs. Bag&Baggage has already raised more than $500,000 in funds from individuals, putting them at 35% of their capital campaign goal. The Collins Foundation challenge grant, once achieved, will raise that percentage to over 50% and will help to complete the theatre's second phase of fundraising.
"The Collins Foundation award is about more than just helping us raise money," said Scott Palmer, Bag&Baggage's Founding Artistic Director. "It is a stamp of approval from one of the region's most prestigious charitable foundations. We are honored by the support given us by the Trustees."
Challenge grants are traditional mechanisms for major capital campaigns, providing non-profits with a vehicle for encouraging individual and corporate giving at a higher or more frequent level. "The great thing about this award is that it allows our supporters to give at any level and have the impact of that gift doubled," said Palmer. "For those individuals who may have thought about giving but, for whatever reason, have postponed making a gift, a Challenge Grant is a very effective way of encouraging them to give."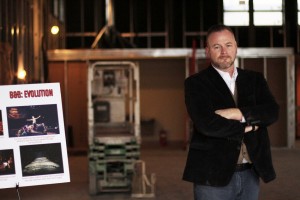 In the coming months, Bag&Baggage will be rolling out a series of new giving opportunities for a wide range of donor levels. Their "Take A Seat" campaign provides patrons with the chance to sponsor one of 144 moveable seats for $250, including having their name engraved on the chairs, for use in the new theatre space. The "Bits and Pieces" campaign will allow people to "go shopping" for specific items, like light switches or lighting instruments, ranging in value from $5 to $500, to help the theatre raise funds for equipment. Contributions to both the "Take A Seat" and the "Bits and Pieces" campaign will be eligible for the dollar-for-dollar match from The Collins Foundation.
"Not everyone can afford to give a donation of $500 or $1,000," said Palmer. "But with the Collins Foundations' Challenge Grant, any donation of any amount is doubled, making this the perfect time for our supporters to make a donation of any size; $5 becomes $10, $25 becomes $50, and $250 becomes $500."
More information on the Bag&Baggage EVOLUTION capital campaign, including opportunities to donate online, can be found at www.bnbevolution.org.
# # #
About The Collins Foundation: The Collins Foundation is an independent, private foundation that was created in 1947 by Truman W. Collins Sr. and other members of the family of E.S. Collins. The Foundation exists to improve, enrich, and give greater expression to humanitarian endeavors in the state of Oregon and to assist in improving the quality of life in the state. As a general-purpose, responsive grant maker, the Foundation serves people in urban and rural communities across Oregon through its grants to nonprofit organizations working for the common good. The Foundation's broad areas of interest include arts & humanities, children & youth, community welfare, education, environment, health & science, and religion. www.collinsfoundation.org.