Jessica Geffen, star of last year's smash It's A (somewhat) Wonderful Life, returns to the Venetian stage in her show-stopping role as Lana North-Berkshire-Whiteside this season in A Miracle on 43rd Street. Jessica blogs a bit about what rehearsals have been like and the challenges facing the cast and crew this holiday season.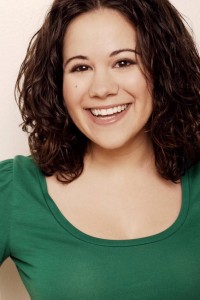 A giddy smile is beaming across my face, my heart is racing with nervous excitement, and a small bead of sweat is already forming on my left temple.  It is the start of another Bag&Baggage Christmas show.  We're not even an hour in on day one of blocking rehearsals, and one of our cast members trips while making a cross to stage right.  Before we know it, this accidental trip moves us to choreograph our first bit of physical comedy.  Shortly thereafter, a word is mispronounced repeatedly, and what do you know?  Another comedic bit is formed.
This type of cast collaboration is not something I had ever experienced prior to being a part of last year's It's A (somewhat) Wonderful Life, and it is something that keeps us belly laughing so hard during each rehearsal that I snort, cry, and can't breathe because of the comedic genius of Scott Palmer and my fellow cast members.  This particular collaborative style definitely keeps us on our toes, not only because we are on the air and footsteps in the KBNB studio shouldn't be heard by our radio listeners, but because we always have to keep an actor eye hovering above the play, Miracle on 43rd Street, the play within a play, Miracle on 34th Street, and the already formed arc and physical comedy bits to continue tightening and building on what we've already solidified.
Allowing ourselves to be inspired by the quick-witted comedic geniuses who've spanned many generations, Lucille Ball, Carol Burnett, Mel Brooks, Gene Wilder, and more, we are able to simply play during the early stages of rehearsal, taking risks that are either hilarious or fall flat.  Usually when a bit doesn't work, we revisit and continue sculpting until it clicks, and sometimes it isn't until 10 minutes later that Scott goes, "I've got it!  This isn't my first time at the rodeo, folks."  And then, magic happens.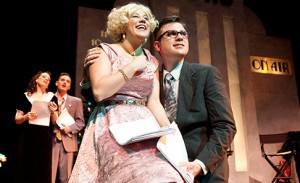 While doing a Bag&Baggage Christmas show is the most fun I've ever had on stage, it is also the hardest I've ever worked on stage.  To say we must be quick on our feet is an understatement – this is a juggling act of sorts, a literal sprint from physical comedy to heartfelt scene, all while genuinely telling the story.
What we must constantly remind ourselves is that behind all the shtick, the characters in Miracle on 34th Street are real people who were experiencing challenges decades ahead of their time.
A divorcée, who is a single mother and female executive, raising her self-composed, wise-beyond-her-years daughter, who is guarded by her mother's trauma of separation, and a man accused of being insane for believing he is Santa Claus, going against commercialism and putting people before profits.
There are many layers to Miracle on 43rd Street, and while some days it feels like it may be impossible to nail it all, I just remind myself that we have to have faith, and trust that it will all come together.
Jessica Geffen
Resident Actor
Bag and Baggage Productions