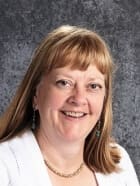 Honoring Silverna: The Silverna Scott Professional Theatre Internship Award
 -a unique named internship opportunity to honor Silverna Scott's contributions to theatre and theatre education in Hillsboro-
Bag&Baggage Productions is pleased to announce a commemorative internship in honor of Silverna Scott who is retiring from Hillsboro High School this year after more than 20 years leading Hilhi's theatre arts program.
B&B, Hillsboro's resident professional theatre company, has been working with Silverna for a number of years, engaging with Hilhi's theatre students in workshops and via paid internships with the company.
Scott Palmer, B&B's Founding Artistic Director and graduate of Hillsboro High School in 1986, said, "Sil has been a champion; not only for us, but for her students. Over the past few years, her involvement with Bag&Baggage has increased our ability to reach out to students with a passion for the performing arts and connect with them in powerful ways, both in and outside of the classroom. Now, with Sil retiring, we want to ensure that future students from Hilhi understand and remember the important contributions she has made to both the school's theatre program and the broader theatrical community in Hillsboro. The Silverna Scott Internship Award will allow us to do just that."
Bag&Baggage offers a number of paid internships for students from throughout Hillsboro each year; the new Silverna Scott Internship Award will be a dedicated award for one student per year from Hillsboro High School to receive a pre-professional internship experience with Bag&Baggage. The internship will focus on stage management and will provide the student with the opportunity to work alongside Bag&Baggage's professional actors and crew members during one of the company's productions each year.
The Silverna Scott Internship will be awarded to a junior or senior from Hillsboro High School who evidences a commitment to the work of the theatre and who has an interest in developing skills in stage management or theatrical production. The award will be publicized to Hillsboro High School students at the beginning of each school year. The successful student will receive professional internship training and a stipend of $250.
Recognition/How To Contribute:
Individuals interested in donating to support the Internship Award can send a check (with "Silverna Scott Internship" in the memo section) made payable to Bag&Baggage Productions at PO Box 3176, Hillsboro, OR 97123.
Donations may also be made online at the Bag&Baggage website by visiting www.bagnbaggage.org, and clicking on the Support Us page. This process requires a donor to create a user name and password.
Donations may also be made over the phone by calling our box office at 503 345 9590. Please remember to indicate that you are donating to the Silverna Scott Internship fund.
B&B will create a dedicated webpage for the Silverna Scott Professional Theatre Internship Award which will include a list of all individuals who donate $50 or more to the fund.
If a minimum of $2,500 is donated by August 1, 2014 Bag&Baggage will honor Silverna with recognition as a major sponsor of our production of The Crucible throughout the month of September.
For more information, please contact Scott Palmer, Artistic Director, at scott@bagnbaggage.org or Anne Mueller, Managing Director, at anne@bagnbaggage.org.