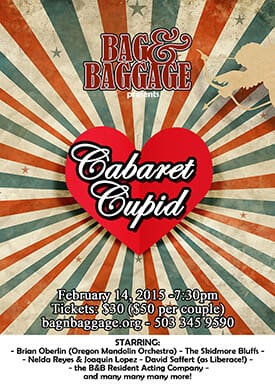 CABARET CUPID: BAG&BAGGAGE'S SECOND ANNUAL STAR-STUDDED VALENTINE'S DAY CABARET
Bag&Baggage Presents Their Second Annual Evening of Opera, Music, Comedy, Poetry and Drama To Celebrate Valentine's Day, Featuring A Star-Studded Line-Up Of The Region's Most Celebrated Artists
HILLSBORO, OR – Bag&Baggage Productions, Hillsboro's resident professional theatre, is proud to present the second annual celebration of Valentine's Day; Cabaret Cupid, an evening of song, dance, comedy and performance featuring some of the region's most celebrated artists and performers.
The event will take place on February 14th, 2015 at 7:30pm at The Venetian Theatre and will include 2 hours of contemporary dance, opera, music, comedy, poetry, monologues and performances selected specifically to celebrate love and romance. "Last year's event was a huge success," said Scott Palmer, B&B's Artistic Director. "And we are thrilled that so many of the performers are returning to join us for this second year, alongside a ton of new artists."
Headliners for the show, which will be presented in true cabaret style, include Portland's master of piano and comedy David Saffert, Brian Oberlin of the Oregon Mandolin Orchestra, Portland's singer-songwriting sensation The Skidmore Bluffs, Latin performing artist and storyteller Nelda Reyes and musician Joaquin Lopez, Portland-area musical theatre star Jeremy Sloan, and monologues and scenes by Bag&Baggage's Resident Acting Company.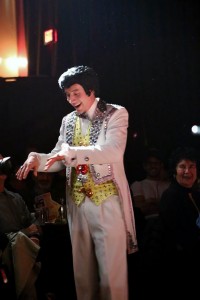 "We are particularly thrilled to have David Saffert back this year," said Palmer. "David's performance last year as Liberace was one of the true highlights of the evening. This year, David will be once again performing as Liberace and will be playing original music written just for him by Bo Ayars, Liberace's personal musical director from 1973-1986."
"The line-up of performers for our second Cabaret Cupid is simply incredible," said Anne Mueller, B&B's Managing Director. "It is remarkable that so many of the region's best-know and best-loved artists and performers have come together to make this event possible. It is rare to see this collection of talent, from so many different performance styles, all together in one place and time."
Tickets for Cabaret Cupid are $30 or $50 per couple and can be purchased online at www.bagnbaggage.org or by calling the box office at 503 345 9590. More information on the full line-up of performers can be found online at the Bag&Baggage website.
# # #
Calendar Listings:
Cabaret Cupid
February 14, 2015 at 7:30pm
The Venetian Theatre
253 E Main Street – Hillsboro, OR 97123
Tickets: $30 per person or $50 per couple
Box Office: 503 345 9590 or online at www.bagnbaggage.org