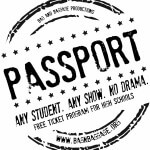 BAG AND BAGGAGE LAUNCHES PASSPORT: A NEW FREE TICKET PROGRAM FOR HIGH SCHOOLS IN FOUR COUNTIES
More than 26,000 students from over 80 high schools now eligible to receive free tickets, on demand, for any Bag&Baggage performance
Hillsboro, OR – For the past 6 years, Bag&Baggage Productions, Hillsboro's resident professional theatre company, has been providing high school students in Washington County with free, on-demand tickets to the company's innovative theatre productions. During that time, the TEN4ONE program has become one of the most successful and acclaimed performing arts access programs in the state. Funded by individual donations and grants from the PGE Foundation and The Standard Insurance, TEN4ONE has become an important way for students throughout Washington County to get access to professional theatre without the barriers of ticket price, enabling hundreds of students to experience the joys of live theatre for free.
"Over the past few years, as the program has grown, we have received more and more requests from schools outside of Washington County," said Scott Palmer, B&B's Founding Artistic Director and the creator of the TEN4ONE program. "It was actually heartbreaking to hear from schools in Vernonia, Banks, Yamhill and Carlton who desperately wanted to bring their students to our shows but, because they were outside of Washington County, they weren't eligible. So, we decided to change all that."
The new program, called PASSPORT: Any Student, Any Show, No Drama, will be a massive expansion of the free ticket program and will provide free tickets to any student from any high school, tribal school, educational district, online academy or registered home school based in Washington, Yamhill, Columbia and Tillamook counties.
"We all know that budgets are tight for school districts across the state," said Anne Mueller, B&B's Managing Director. "For most districts, funding for field trips or to pay for tickets to arts experiences are simply not available. This means that an entire generation of students from our community may graduate from high school having never experienced the joys of professional live theatre. PASSPORT hopes to change that."
In addition to free tickets, B&B will also provide teachers with free online curriculum guides that help incorporate the company's theatrical work into the classroom, increasing the educational value of attending a show.
The expansion of the program to include Yamhill, Columbia and Tillamook counties will provide access to theatre experiences for many students who live too far from metropolitan areas to attend performances. "Think about it this way," said Palmer. "If you are a student in Vernonia, it is incredibly difficult to get into Portland to attend performing arts. The costs of tickets, travel, and time are simply too high. With PASSPORT, students from St. Helens, Vernonia, Carlton or Nehalem can cut the distance dramatically and get tickets to any show at no cost."
Funding for the PASSPORT expansion is provided by Bag&Baggage's annual Gala Auction and Dinner, this year held at Oakwood Gardens in Hillsboro on July 19, 2014. "We raise tens of thousands of dollars each year to support our access programs," said Mueller. "And this year is particularly important given how much bigger the PASSPORT program will be and how many more students are eligible."
Information on how to access the PASSPORT program and details on the 2014 Annual Gala can be found online at www.bagnbaggage.org.
About Bag&Baggage Productions: Bag&Baggage is committed to provocative, innovative interpretations of classical works of American and English Drama. Through the use of major literary adaptations and inventive stagings, the company seeks to reconnect the great works of drama to new audiences. Bag&Baggage is the only professional theatre in Hillsboro and is the resident in-house performing arts group at the historic Venetian Theatre in downtown Hillsboro. www.bagnbaggage.org.
# # #