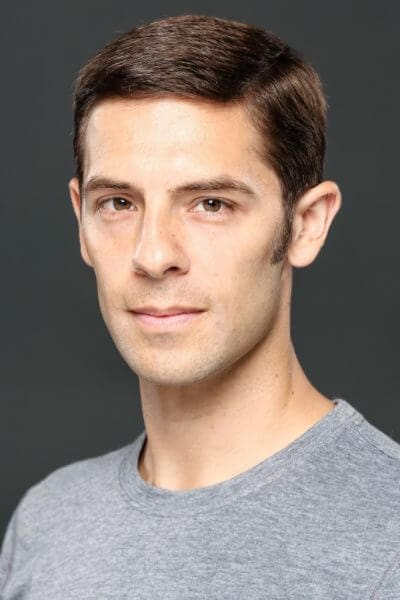 Sea-Tac airport. That's where I was when I received news that my summer schedule had change because there was an email from Scott Palmer offering me the role of the Storyteller in my Inbox.
The initial rush of excitement spurred me on to contact a number of people very quickly. There were so many things to do, but first, I had to get back to PDX so I could celebrate the news with my wife. Little did I know about what was to come and who I was about to meet and what new memories we would make together. I was so excited!
Many moons have passed since that day in Seattle and my world has changed in so many ways.
As a new cast member in the Bag&Baggage family, it has been a ride unlike the adventure I was anticipating. The Storyteller is a role unlike any other I have ever performed before. He walks the line of a campfire counselor and an all knowing, all seeing voice of what has and is to come. Making my way through the text has led me down a path more challenging than any previous character I have taken on. He speaks mostly in the beautiful language within Nizami's poem with a handful of Shakespeare. Ensuring that the two sound like one, has been a wonderful endeavor to face head on.
Another challenge I have found has been in finding a balance of isolating myself from the happenings around me and also finding appropriate times to engage with the cast and audience. The Storyteller walks alone within the world of the play. And yet, the question I find myself pondering is: Does the Storyteller create the world or is he being controlled by someone, or, something to bring this story to life.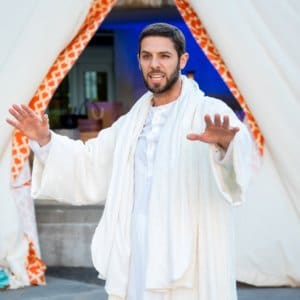 The unexpected is what happens when you create and attend the theatre. It's beautiful because it will never happen the same way again. We're all expecting the unexpected. Talk about a thrill ride!
Let's reflect on a few unexpected things that came at me/us fast and furiously. A large loud water fountain with gleeful children running about. Tuesday nights in Hillsboro brings out the bands and dancers and singers. Noise here and there and everywhere! I may have found myself thinking "What's going on?" a few times as I worked through the technical process of ensuring that I was projecting my voice along with the awareness that finding character nuance was not going to work the same way as if we were in a black box or traditional theatre. 
Lessons on top of lessons on top of lessons. There's always something to learn and I can easily attest to many dozens of lessons learned during the production of Romeo & Juliet/Layla & Majnun. I felt humbled to learn from the seasoned Bag&Baggage cast as well as the new cast members. If there is one thing I know is that there is so much I do not know.
To my great joy my heart could not be more full with the friendships I have made with the cast. I feel like the best way to describe how it feels to know everyone has everyone's back is to reference Dr. Seuss's Grinch when his heart grew three times! The awareness of everyone's support is overwhelming in the best way possible.
Let's end with a note the Storyteller: I am grateful that everyone in the cast are willing to be taken on the adventure of a lifetime every night. The night will pass, and the morning will dawn, and the storm will grow. I look forward to taking on you on our journey into a world unlike anything you've ever seen or heard.
Gary Ploski
A Storyteller