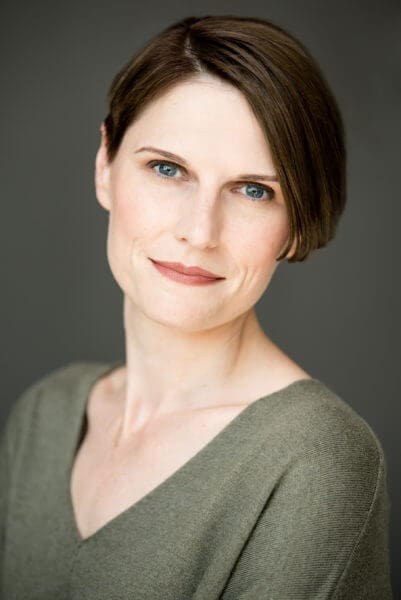 Humanizing Dean Catherine Kenney
by Morgan Cox
 Let's start with some quick thoughts about the play itself. "
Spinning Into Butter
" has had a variety of responses from critics.  The play has been praised, bashed, meh'd, and made into a 2007 film, starring Sarah Jessica Parker.  Another fact to note is this play was written by a white woman(surprisingly, I didn't find much focus on this, in the NY Times, NY Magazine, or Variety reviews.  A little, but I thought it would more of a topic).  We all know the expression "write what you know?"  Well, Gilman has done just that.  Or, perhaps a more accurate expression would be "write what you observe and experience."  Rebecca Gilman has created a world, no doubt influenced by her observations and experiences at Middlebury College, a small, private, liberal arts school in Vermont, where she herself was a student.  The fictional Belmont College, in Gilman's play is also a small, private, liberal arts school…in Vermont.
I am cast in the role of Catherine Kenney, the Dean of Belmont College.  Upon first read of the script, it was obvious to me Catherine wasn't going to be the most "likable" character, but it is my job to bring sincerity and humanness to the role.  Here is what I have decided: everyone is flawed.  People get caught up in their environments, their relationships(or lack thereof), they get overly focused on what others think of them, they get stuck in their comfort zone…they get used to being in control.  I've experienced all of these things.  I can identify with this – I can connect.  While I may not fully relate to Catherine's character, I can certainly dig deeper and find out why she behaves the way she does.  Why is she so concerned with appearances?  Why doesn't she want to create and participate in an ongoing conversation about racial issues on campus? Why does she assign nearly everyone else the difficult tasks and not take them on herself?  I am pretty sure you've decided you don't like her very much already, am I right?  Hear me out…
Dean Kenney wanted to hire a liaison to the minority students and the first choice fell through, so they ended up hiring Sarah Daniels.  I believe Kenney knows she herself is lacking the expertise to deal with these sensitive racial issues and wants to make sure they are handled correctly – this is why the school hired a liaison.  Sarah Daniels was not the first choice, but she was hired.  Of course Kenney expects Sarah to come up with a clear plan and a way to tackle the issue of student Simon Brick and the threatening notes that have been left on his door.  As soon as it becomes clear to Catherine that Sarah Daniels is not going to meet her expectations, she takes matters into her own hands.  Let's not forget Catherine Kenney is under an enormous amount of pressure.  Kenney must report directly to Garvey, the president of the college, as well as the board.  On top of all this, she is in a position of power, in a male-dominated world, a position she had to work extremely hard to achieve.  She finds herself in the midst of dealing with an issue that could threaten not only her job, but the future of the entire University.
There is a moment in the show, when the audience is let in on a romantic history Dean Kenney had with one of the chairs, Burton Strauss, and it's very sincere – she is utterly human in that moment.  Catherine is not a bad person.  She is an intelligent, strong, powerful woman, who is uncomfortable revealing her vulnerability, for fear it will derail her, but we do see fleeting moments of it.
I'm looking forward to breathing life into her and creating a real and complex character.  It will be a challenge to not have her viewed as "the bad guy," but I am up for the task.