Four young artists take part in first year, learning full scope of running a theater company.
Michael Sproles; Pamplin Media Group, Hillsboro Tribune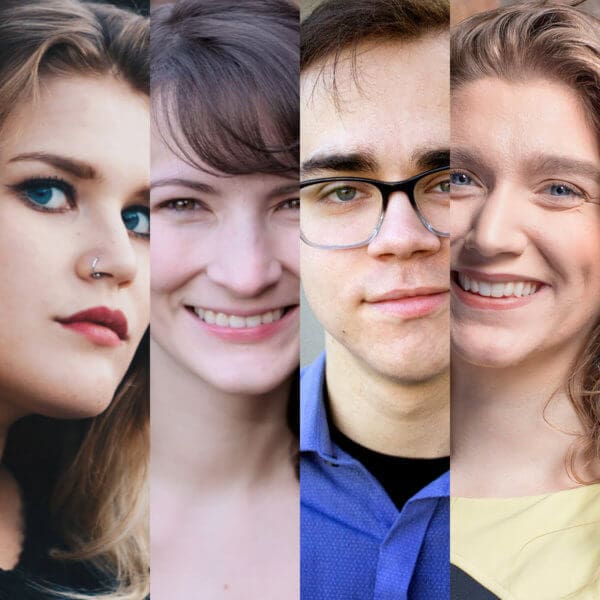 It was only a couple of years ago when Bag&Baggage won its award from the American Theatre Wing. When B&B's founding artistic director Scott Palmer returned to Oregon from the ceremony in New York, he knew what the Hillsboro theater company was sorely missing — an internship program.
At the time, B&B did not have the resources to launch one, but now, after running a successful capital campaign, Aug. 1 was the start of the company's first-ever Emerging Artists Program. The program includes four young artists who take on roles to immerse themselves in a wide variety of responsibilities that pertain to running a successful theater company.
"Now that we have a building, complete with a bar, concessions and a ton of other responsibilities, it's a space that's our own, and we have the chance to bring more people on board," said associate artistic director Cassie Greer. "The kinds of things we're getting them involved in is stuff that I wish I would've gotten as a young actress."
The emerging artists' internships will run through June of 2018. They'll have opportunities to dabble in acting, directing, stage management, writing grants, managing personnel, setting up season programming and more. B&B has a series of 42 workshops planned for the season ahead. The company is also well known for adapting old classics, so the program will see its members adapt a Brothers Grimm fairy tale and perform it for a young audience.
"Bag&Baggage is really close to where I live, so as an actress who lives in the suburbs, I was very interested in a professional theater that was local," said Tiffany Rousseau, one of the four emerging artist in the program. "I was drawn to the program in particular because it looked like the perfect segue into being a professional in the Pacific Northwest."
Palmer and Greer reached out to many potential candidates who were in college or soon-to-be graduates, or people looking to return to the profession. A total of 25 applicants from across the country were interviewed.
"Once I read about the program and the company I became more and more excited," said emerging artist Renee Zipp. "This is not simply acting training or technical training. We are learning how to tell transformative stories from the ground up, starting with the community we belong to all the way to orchestrating magical details in on-stage productions and understanding the real business behind this important art."
So far, the B&B staff has been able to sit down with all four of the interns to speak about company history and expectations. All of them are currently situated in Hillsboro, Beaverton or Portland.
"I'm astounded by how the company seems massive and tiny all at the same time," said emerging artist Grant Thackray. "It seems to have the comfortable small staff size of a local community theater and it's like we're joining a family rather than a company. But at the same time, it has such an amazingly broad scope in terms of budget and goals, and there's no limit to what this theater would be able to accomplish should it so choose."