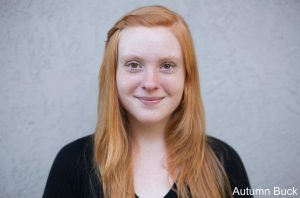 Goosebumps are often present on drowning victims. I saw that somewhere or read that somewhere or assumed that somewhere. It was never really a mind-blowing fact for me, just some interesting party trivia. I apparently attend a lot of morbid parties, or make the parties morbid, which is why being asked to portray Alice Burnham in The Drowning Girls made my little morbid heart sing.
It's the morning before our first technical rehearsal, and I don't think it's stopped raining since yesterday afternoon. The water outside can't help but make me think about this show. I'm contemplative about it, about performing it, but I'm also contemplating on what makes it special to me.
Mainly, it's been hard. Definitely the most challenging show I've ever been in, physically, mentally, emotionally, vocally. Everything-ly. And I love it. I love the challenge, the notion that I have to work so hard and if I do, I can feel secure in the knowledge that I've put on an impactful show.
I keep saying I. I really should be saying we. This show cannot be done as an 'I'. The lovely ladies I share this stage with are incomparable, and delightful, and impossible in the best ways. We rely so much on each other to make this show happen, and once you see it, you'll know why.
Playing Alice never struck me as something I needed to worry about. We are three years apart in age, we are both terribly naive about our fair share of things, we are sick of being ladies, at least some of the time, moreso sick of the expectations placed upon women. But only over recent performances have I realized Alice takes a toll emotionally. She was such an easy person to relate to, connect to, become. But making sure I'm telling her story- the real Alice Burnham's story- is where I get anxious.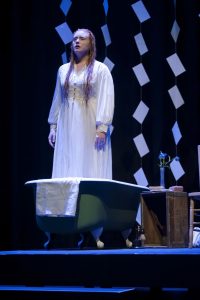 We forget these were real women. We forget they were placed in the same situation and had the same fate. For me to play this real woman who was a victim of this bigamist is…I guess I can't help but feel the weight and the gravity and all the aches and pains of what it means to be forgotten. We easily find the murderer fascinating before we consider the victims, if we ever think about them at all. It's my job to make Alice fascinating first and foremost.
Alice's story has the most scenes of realism (for lack of a better word) compared to the telling of the other women's pasts. That was detrimental to me as an actor: to have these scenes of raw emotion towards Alice's parents and her husband and with herself. Alice Burnham, always told by her parents to be practical and careful, gets the scenes with the fewest fantastical elements, and that's very motivating to me as an actor: to play a woman who wants freedom and to be swept off her feet, but she's trapped in these scenes of reality.
I wish I could say that these three women will be what everyone thinks of when they hear about the Brides in the Bathtub Murders. I wish people would automatically say oh, yes, what happened to Bessie and Margaret and Alice was heartbreaking. The reality is you will know the murderer's name, perhaps even the lead prosecutor's name. The men responsible for their death and their redemption respectfully, never once considering how these women felt, and what pressures they were under. Come and see us tell their stories, the stories that matter far more because they are so undervalued. Alice would love to meet you.
Autumn Buck- Alice