Our production of Romeo&Juliet (Layla&Majnun) is, we think, the first ever production in human history that combines Shakespeare's great tragedy with the 12th Century Persian tale that influenced almost all of European romantic tragedies. We are deeply proud of the fact that Bag&Baggage, a theatre company in suburban Hillsboro, is producing such a challenging and risky piece of work that explores the connections between the east and the west.
One of the main reasons to do so is to raise awareness in our community of the deep connections we share with our brothers and sisters from the Middle East. So much of our culture, literature, and history has been shaped by the ancient cultures of the Middle East; from the invention of surgery (the celebrated Muslim physician Al Sahrawi published a 1,500 page illustrated encyclopedia of surgery in the year 1,000 that was used as a medical reference text throughout Europe for more than 500 years), the creation of coffee as a beverage, the concept of a "University," toothbrushes, algebra…and so, so many more inventions that we rely on every single day- all were created by Muslims in the Middle East.
It is simply not the case that we are more different than we are alike. Yes, there are great variations in our faiths and our cultural norms, but those are truly only ever obvious in the extremes. The truth is this; we share more with our brothers and sisters from the Middle East than any of us truly know, and our production of Romeo&Juliet (Layla&Majnun) is a small step towards raising awareness about just how much we are alike and how important the connections are between our cultures.
Which is why we are also proud of our partnership with Defensa de la Dignidad, a presenting sponsor of this production.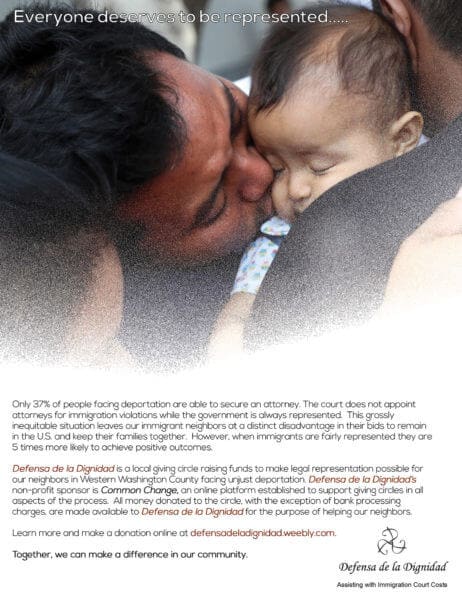 Local families here in Hillsboro are facing financial hardship and the threat of separation due to unjust deportation actions. In April the Oregonian reported on a Hillsboro mother who had been threatened with immediate deportation. "She has three children, all U.S. citizens, ages 13, 8 and one. Either they will be left in America without their mother, or they will effectively be deported from the land of their birth and citizenship…"
According to the American Immigration Council, Nationally only 37% of people facing deportation are able to secure an attorney. The court does not appoint attorneys for immigration violations while the government is always represented.  This grossly inequitable situation leaves our immigrant neighbors at a distinct disadvantage in their bids to remain in the U.S. and keep their families together.  However, when immigrants are fairly represented they are 5 times more likely to achieve positive outcomes.
Defensa de la Dignidad is raising funds to help immigrants right here in our own community pay for essential legal representation and keep their families whole. Defensa de la Dignidad is a local "giving circle" which empowers small donors to make big impacts through pooled resources and collaborative grant making.  Each member has a vote! Giving circles are a grassroots form of philanthropy based on a common community goal and participatory decision making.  Circle members pool their money, propose recipients in need of help, discuss and vote on the proposal and if the proposal is accepted, make the gift.
Defensa de la Dignidad's non-profit sponsor is Common Change.  Through their sponsorship all donations to the circle are tax deductible. Common Change is an online platform established to support giving circles in all aspects of the process.  All money donated to the circle, with the exception of bank processing charges, are made available to Defensa de la Dignidad for the purpose of helping our neighbors.
​Gifts will be paid either directly to an immigration attorney representing a community member or as a reimbursement to the beneficiary upon presentation of a receipt.
Gifts will be made on behalf of non-violent individuals.  Before a gift is made a letter from the representing attorney stating that the client has not at any time been charged with a violent crime is required.
You can learn more about Defensa and the crucial work they are doing here:
http://defensadeladignidad.weebly.com/
We are proud to be a partner, and encourage all of our patrons to generously support this important cause.
Scott Palmer
Artistic Director
Bag&Baggage Productions