Moving on is never easy. But should it be?
…
Don't ask me. Because… Uh, well-  I don't know, yet.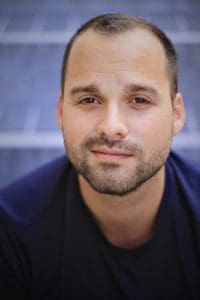 I can't help but find myself slipping in and out of some sort of transcendental wavelength similar to the final scene in of our production of The Graduate. I, much like Benjamin Braddock am still stuck on that airport conveyer belt, the back of that bus, under water. It comes over me like a hot-gray sort of haze and sometimes it lasts 30 seconds and sometimes it lasts an hour plus.
Life. Acting. Fatherhood. Marriage. Divorce. Rain. Traffic. Time differences. Graveyard shifts.
10 am
Football games. Weird dates. Songs on repeat. Laughter. Tears. Push ups. Chocolate milk. Elaine. Benjamin.
…What?
I was going to write about acting. Then I thought about something bigger. I thought about theatre. I thought about mental health.  I thought about all the people and all the feelings. I thought carving into that tree of legacy. I thought about Christmas. I thought about hope. Where did it go?
Theatre has this odd way of working its way into your life when you need it most. I'll remember 2016 as my warrior year. It was a tough and trying year that will most likely forever define me.
And like every year I'm ending it with Christmas. A new sort of Christmas. An Arpad Novack Christmas. Christmas for me was always about family. It was about the short but trying ride from New Hampshire to the South Shore of Massachusetts, through the lights and traffic of Boston, over the bridge and smiling at the sight of The Garden in my fathers Dodge Caravan. It was about NBA games and getting buzzed with my sister. The same great films. Laughing, eating, laughing, eating.
This year it's about hope. For Christmas I want hope. The world of the play needs it, I need it, you need it. Arpad has it.
That's why I do it. I often get asked why I keep acting. To me it's a really silly and preposterous question but I guess if I wasn't me then, yeah… Maybe I'd wonder why the hell people do what we do. Plus, years of studying, countless workshops, thousands of hours and billions of pages. I guess I just don't know what else to do.
I act because I need my roles to teach me something. To heal me. They are medicinal to me as a hike, or skydiving, or opiates are to someone else. They are a chance for me to show others what I'm learning. A chance to provide hope. Real hope.
Arpad Novack is hope. In a time where it's certainly tough to feel it, I want to provide it. I want to provide it through an energy that is as contagious as a seasonal virus. Arpad is hope. Arpad is warmth. He's the feeling of that long hug or hand hold when it really matters. He's the feeling of this time of year. He's that energy that keeps you moving on when that fire in your head seems out of control. He's an extra few dollars at Christmas time. He's the feeling of waking up next to someone you love. He's that text or drunk call from all your friends 3500 miles away that are putting you on their backs as you did for them. He's your child's eyes. He's your dressing room family and a plethora of laughs and inside jokes. He's that smile from Benjamin Braddock and Elaine Robinson on the back of the bus before it fades.
I hope I don't have to wear a gas mask when I step outside in the next 5-10 years. I hope my little girl doesn't have to have more than 4 years of a Donald Trump presidency. I hope my parents continue to age well. I hope the human rights of my friends and family stand tall. I hope to find someone to share hope with. I hope to smile more, laugh more, exercise, eat the good things and the bad things and learn and grow and goddamit…
I hope you'll hope with me. Because it's easy. And it's free. And it's absolutely required.
PARFUMERIE to me is about hope. It's rich with hope in a time when we all need it.
Through my battle with mental health and transition over the past year I came upon a proverb that rang so true in my head it made me smile until it hurt. Sadness is inevitable, but misery is a choice. No one said it was going to be easy. But read this next sentence over and over again and I hope you'll agree with me…
Misery, is a choice. You don't have to have it. You can be sad. But you don't have to be miserable.
I'll see you out there, and thank you in advance for your hope. There's enough to go around.
Let's go.
Eric St. Cyr
Bag&Baggage Associate Artist