Monday, November 28, 2016
PARFUMERIE MORE THAN JUST A GENTLE CHRISTMAS COMEDY
By Tina Arth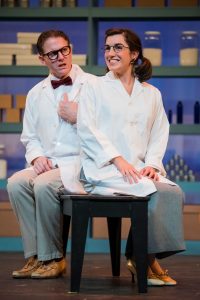 When Bag & Baggage announced their 2016-17 season last April, few people would have predicted that the decision to replace their traditional Christmas farce with the relatively obscure Parfumeriewould prove so prescient.  However, co-directors Scott Palmer and Cassie Greer did not miss the significance in November 2016 of a play that embraces love and hope in the face of an ominously xenophobic political climate. The result is a show that is funny, heartwarming, but still able to subtly remind us of shadows on the national horizon.
While Parfumerie is new to American stages (it was first performed in English translation in 2009), the story is widely known to fans of stage and screen. Author Miklos Laszlo's original 1937 Hungarian play, Illatszertar, has been reworked as 1940's The Shop Around The Corner, 1949's In The Good Old Summertime, the 1963 musical She Loves Me, and most recently 1998's You've Got Mail. Although the names and locale sometimes change, the basic story is the same – two pen pals fall in love through anonymous correspondence while unknowingly waging daily battles as co-workers. After the story has been told and retold by the likes of Jimmy Stewart, Judy Garland, Barbara Cook, Tom Hanks and Meg Ryan, is there anything new to be gained from the efforts of Hillsboro's Bag & Baggage? My answer is unequivocally "yes" – I found myself riveted by the deeper character and story exploration in the original play, and by the way it augments my appreciation of She Loves Me, my personal favorite among the adaptations.
Of course, even the best script calls for skilled actors, and B&B has assembled a first-rate cast to tell the tale. David Heath (as Parfumerie owner Miklos Hammerschmidt) gives a fiercely moving performance as he moves through his character's anger, grief, despair, and ultimate contrition. Patrick Spike finds both the humor and pathos in his role as Sipos, the pragmatic wage slave who just wants to keep his job in tough economic times, and Eric St. Cyr's consistently funny take on the hapless but ambitious Arpad takes the edge off some of the show's darker moments. Nobody on local stages can top Andrew Beck for supercilious, unctuous depravity, and his portrayal of the thoroughly despicable Kadar fully lives up (or down) to his potential.
While the love-hate relationship between brittle, defensive Amalia Balash (Arianne Jacques) and her soulmate/nemesis, George Horvath (Joey Copsey) is the heart of Parfumerie's many adaptations, the original play has a broader thematic focus.  However, the production still finds ample humor in the two characters' confused relationship. Copsey's juvenile mockery of his colleague (exemplified by his relentless mispronunciation of her name) and Jacques' hostile, wounded reactions shape the plot, and the eventual revelation provides a satisfyingly romantic resolution. Jacques gets some of the show's best comic moments in the scene where Amalia contrasts her anonymous pen pal's sterling qualities with (her perception of) George's profound character deficits, and Copsey does a fine job of gradually revealing how very wrong she is.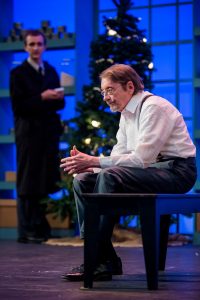 Ultimately the two characters' problems pale beside the serious issues confronting Mr. Hammerschmidt, and a few subtle touches (an overzealous policeman, a hidden menorah, the emphasis on the Parfumerie's elaborate Christmas décor) make it clear that in 1937 Hungary a rising fascism is a portent of much worse to come. The final scene is a beautiful, but slightly chilling, masterpiece of caroling harmonies and gently falling snow underscored by the distant pulse of a police siren.
Megan Wilkerson's detailed scenic design, in concert with Jim Ricks-White's lighting and special effects, create the ambience necessary to transport us back to an elegant 1937 Hungarian parfumerie, and Melissa Heller's costumes provide just the right touch of formality for a European capital city of the era.
Audiences conditioned by three years of Bag & Baggage's KBnB buffoonery will find this year's holiday show to be very different, but every bit as enjoyable, as previous productions.  The meatier content (and family-friendly script) should draw an enthusiastic response from the company's regulars and from newcomers in search of solidly entertaining Christmas theater.
Bag & Baggage's Parfumerie is playing at Hillsboro's Venetian Theatre, 253 E. Main Street, through December 23d, with performances Thursday through Saturday at 7:30pm, Sunday at 2:00pm.
Posted by Westside Theatre Reviews at 10:00 AM