January 20, 2017
THE BRONTE SISTERS LIVE AGAIN…AT THE HILLSBORO LIBRARY
Announcement Of A Pending Sale Of The Venetian Theatre Requires Bag&Baggage To Perform Polly Teale's Play At The Library!
Hillsboro, OR- Anne, Charlotte, and Emily Brontë were familiar with overcoming hurdles; the three Brontë sisters overcame isolation, sexism, and a family rocked by addiction to become three of the most important writers in all of Western literature. It is fitting, therefore, that the recent announcement of the pending sale of the Venetian Theatre in downtown Hillsboro is simply another hurdle the sisters must overcome to bring their lives and literature to life for Hillsboro audiences.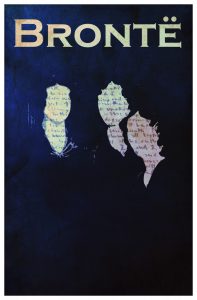 Bag&Baggage Productions, Hillsboro's resident professional theatre, is proud to announce the Pacific Northwest premiere of Polly Teale's remarkable exploration of the lives and works of the Brontë sisters, called simply Brontë, at the Hillsboro Public Library Brookwood location over the course of four weekends in March, 2017. Teale, who is Artistic Director of acclaimed UK-based Shared Experience Theatre Company, first wrote and directed Brontë as a way to both celebrate the work of the three iconic British writers, but also as a way to explore the influences of the lives and family members on that work.
"Not only is this a play that has a stellar reputation for creativity and expressiveness, it is also a play written by a woman about women writers," said Scott Palmer, B&B's Founding Artistic Director. "B&B is committed to making sure that women artists, writers, and literary figures have a central role in our all of our work, and Brontë is a great example of that commitment."
Michelle Milne, who directed B&B's The Best of Everything in September of 2016, returns to Oregon to direct Brontë in this Pacific Northwest premiere. Milne has worked as a theatre artist and educator across the country. In Oregon, she has worked with Hand2Mouth Theatre, Sojourn Theatre, Open Hearts Open Minds, and Portland Playhouse. Primarily based in Chicago and Indiana, Michelle also travels regularly to New York City to continue her advanced training as a Feldenkrais Method practitioner; southern Arizona to continue exploring her interest in borders as a place of exchange and transformation; and to Oregon where she collaborates with a wide range of theatre companies. She teaches in the theatre departments of Columbia College in Chicago, and Goshen College in Indiana.
The play starts in the year 1845. Branwell Brontë, brother to the famous sisters, returns home in disgrace. Plagued by alcohol and drug addiction, he has been dismissed from domestic service following an affair with the mistress of the house. As their brother descends into alcoholism and insanity, bringing chaos to the household, the sisters write their novels, tell their stories, and are visited by some of their most memorable and beloved literary creations.
Because of the pending sale of The Venetian, there is no guarantee that the venue, which has housed Bag&Baggage for the past nine years, will be open in time for Brontë to be performed. "We don't know what the new owners will want to do with the space," said Palmer. "There could be refurbishment, redecorating, changes to the performance or restaurant space; we just don't know. Moving to the Library means that the show will go on."
The change in venue from The Venetian Theatre to the Hillsboro Public Library offers a wealth of creative opportunities for the show. "In the first place, this will be what we call a promenade show," said Palmer. "A show where we move the audience, from scene to scene, throughout the space, taking advantage of the books, stacks, and atmosphere of the library. That is not something we could have done in a traditional theatre, and it really offers our designers and actors some new and unique performance challenges."
Because of the Library's opening hours, Bag&Baggage has had to limit the performance dates and times as well. "The Library is a huge partner in this show with us, and we have to respect their opening hours and the thousands of patrons who make use of the library throughout the week, "said Palmer. "That's why we have to limit the shows to Friday, Saturday, and Sunday evenings at 7:30pm; the library closes at 6pm on those nights, which gives us a chance to set up the space and also not interfere with regularly opening hours."
Brontë stars B&B Resident Actors Cassie Greer, Jessi Walters, and Peter Schuyler. They are joined by B&B favorites Morgan Cox and Joey Copsey. Scenic Design provided by Megan Wilkerson, Costume Designs by Melissa Heller, Lighting Design by Jim Ricks-White, and Sound Design by Scott Palmer. Performances take place at the Hillsboro Public Library Brookwood Branch at 7:30pm and have a limited seating capacity of only 60 people per night. This is a promenade show, so audiences will be asked to move throughout the library during the performance. Tickets are available online at www.bagnbaggage.org or by calling the box office at 503 345 9590.
# # #
Calendar Listings:
Brontë
By Polly Teale, Directed by Michelle Milne
The Hillsboro Public Library, Brookwood Branch, 2850 NE Brookwood Pkwy, Hillsboro, OR 97124
Library Opens at 7:00pm, Show starts at 7:30pm
Friday, Saturday, Sunday
March 3, 4, 5, 10, 11, 12, 17, 18, 19, 24, 25 and 26 2017
Tickets: bagnbaggage.org or 503 345 9590
Friday, March 3 is a Pay What You Will Night, tickets available at the door only via cash donation