BAG&BAGGAGE TO PARTICIPATE IN THE GHOSTLIGHT PROJECT
The National Event Will See Hundreds Of Theatres Across The Country Stand Up For Inclusion And Access January 19th
Hillsboro, OR- On the eve of Inauguration Day, Bag&Baggage Productions, Hillsboro's only professional theatre company, will join more than 100 theaters across the United States as a participant in The Ghostlight Project. On January 19, at 5:30 pm in each time zone across the country, the theater community will gather to light a light and pledge to stand for and protect the values of inclusion, participation, and compassion for everyone, regardless of race, class, religion, country of origin, immigration status, (dis)ability, gender identity, or sexual orientation. The gathering outside of Bag&Baggage's new permanent home on Main Street in downtown Hillsboro will include reading selections from Shakespeare, the U.S. Constitution, and the chance for public reflection and a show of commitment to the values of inclusion. The event is free and open to everyone.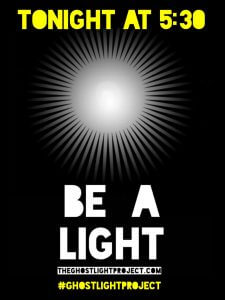 Inspired by the theatrical tradition of keeping a "ghost light" on in a darkened theater, The Ghostlight Project and participating theaters hope to "create light" by inviting communities to gather, reflect, and shine their own lights. The range of participating theaters include Broadway houses, regional theaters, college/university theaters, community theaters, and high school theater departments. In Oregon, other participating theatres include the Oregon Shakespeare Festival, Artists Repertory Theatre, Oregon Children's Theatre, Triangle Productions, and Third Rail Repertory Theatre.
Cassie Greer, Bag&Baggage's Director of Advancement and one of the company's Resident Actors, said, "January 19th is a moment of gathering within a larger resistance to intolerance at all levels. We aim to create brave spaces that will serve as lights in the coming years. We aim to activate a network of people across the country working to support vulnerable communities. This is not a substitution for protests or direct action, but rather a pledge for continued vigilance and increased advocacy."
Bag&Baggage encourages interested individuals and organizations to meet at their new home,, located at 350 East Main Street, starting at 5:00pm with speeches and presentations beginning at 5:30pm.
"Please bring your own bright light to share; a flashlight, candle, cellphone light, or otherwise, and your personal passion and commitment to being a light in our community," said Greer. "Don't be late! The ceremony will begin promptly at 5:30pm, with opportunities to mingle and make your own Ghostlight Project sign beforehand. Our good friends next door at McNally's Taproom will host us after the ceremony for drinks, discussion, and community," she said.
More information about The Ghostlight Project can be found online at www.theghostlightproject.com.
# # #
Calendar Listings:
The Ghostlight Project
January 19th, 2017
350 E Main Street, Hillsboro, Oregon 97123
5:30pm – 6:30pm
Free and open to the public
More information online at www.bagnbaggage.org or by calling 503 345 9590