We pride ourselves on giving our audiences ALL of the reviews, not just those that praise our work…so, here you go! Broadway World Portland didn't like The Graduate so much, and here is the review to prove it! Oh well, can't win 'em all!
The Resurrection of Mrs Robinson, review by Roger Martin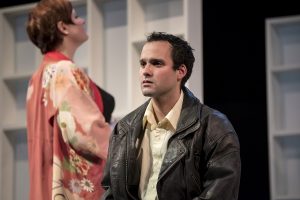 She's back, The Seducer of the Sixties, infamous in song and film. But let's not rejoice too soon because this is Terry Johnson's weak stage adaptation of the Charles Webb novel and the classic Mike Nichol's film.
The stereotypical '60s characters Johnson has delivered are flat. And from curtain rise the Bag&Baggage players, with one exception, are unable to inject emotion into this tale of adultery, depression and the angst of adulthood. The show soon lapses into an obvious tale of boy gets girl's mother, then meets girl, sort of gets girl, then doesn't know what he wants and cries. The end. Oh, there is some funny stuff, sort of.
Benjamin, the graduate, wanting to change the world, but let's get laid first, is well handled by Eric St Cyr, providing the only real spark on stage.
His seducer, the alcoholic Mrs Robinson, as played by Kimberli Colbourne, is a humorless, not particularly enticing, cougar. That she would get a rise out of Benjamin is a little beyond belief. Her daughter, Elaine, with whom Benjamin, of course, becomes obsessed, displays emotion with the splayed fingers of a dementEd Balinese dancer.
And then the two cardboard sitcom dads, Benjamin's and Elaine's. Hmm. Here's Mrs Robinson's husband, the cuckold, endlessly circling a small table, one way and then incredibly, the other, whilst raging at Benjamin for nailing his long ignored wife. Hmm, again.
And Benjamin's mother? Can you say dither?
There's a little nudity on Benjamin's part, full frontal obscured by a convenient cushion. Mrs Robinson, however, is never starkers.
The minimalist set has large moveable white bookcase flats. They're transparent and used effectively to silhouette the action in some scenes; a gyrating stripper in a bar and notably a lengthy depiction of Benjamin and Mrs Robinson in various sexual positions
Upstage lights are also shined at the audience through the flats for no apparent reason. Boxes make furniture.
Scott Palmer directed THE GRADUATE and perhaps he told the actors to take their time as the silences more than once made me turn to see if Pinter was in the house.
Portland's Bag&Baggage is a brave company, tackling a flawed script with a less than stellar cast and direction.
There is little subtlety and depth on display and that's a shame. The best of intentions…well, you know how those usually turn out.
The players:
Eric St Cyr, Kimberli Colbourne, David Heath, Arianne Jacques, Michael Rouches, Kim Bogus, Cassie Greer and Andrew Beck.
The techies:
Melissa Heller, Megan Wilkerson, Jim Ricks-White, Mackenzie Joseph.
THE GRADUATE plays through October 2 at Bag&Baggage, The Venetian Theatre, 253 E. Main St., Hillsboro 503-345-9590 https://bagnbaggage.org
Photo: Eric St. Cyr and Kimberli Colbourne