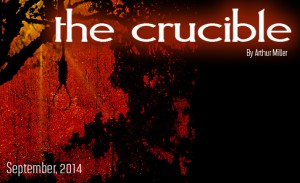 Hillsboro, OR – Bag&Baggage Productions, Hillsboro's resident professional theatre, is thrilled to announce the company's first ever Pre-Professional Development Program for high school students who attend school at any of the four high schools in the Hillsboro School District. This program, funded in part by a generous grant from the Ritz Family Foundation, will provide up to 8 young women enrolled at Liberty, Century, Hilhi or Glenco High Schools with the chance to work alongside Bag&Baggage's professional actors as paid members of the cast of our September 2014 production of Arthur Miller's The Crucible.
These young actors will receive acting coaching and pre-professional training from Cassie Greer, a member of the B&B Resident Acting Company, and will perform roles in The Crucible over the course of 4 weeks in September. In addition, up to four other students will be hired as members of the production crew, developing skills in lighting, scenic design, set construction and stage management throughout the production.
"Bag&Baggage has always been committed to providing access to theatre for young people," said Scott Palmer, Founding Artistic Director of Bag&Baggage and a graduate of Hillsboro High School. "This project gives us a chance to do even more for students with a passion for the performing arts, giving them a completely unique opportunity to learn about the craft of theatre alongside our professional actors and designers."
The project begins at the end of May with a free audition workshop for any high school student from Hillsboro. The workshop will give students a chance to learn the skills necessary to prepare for and complete a professional theatre audition. The workshop will take place at the Venetian Theatre in Hillsboro on May 25th and will be led by Greer and other members of the Bag&Baggage Resident Acting Company.
"This workshop gives all students a glimpse into what they need to know to be competitive in the professional acting world," said Greer, who has appeared in more than 10 shows with the company. "How to prepare contrasting monologues, how to prepare a 'slate' of monologues, and how to interact with casting directors and directors are all essential skills for any professional actor."
After the audition workshop, interested female actors from the four high schools will sign up for an audition in mid-June. There are a number of speaking parts available in the production, and the high school actors chosen will be cast as the young accusers in Arthur Miller's The Crucible, which details the historical events of the Salem witch trials.
"These aren't just walk on roles," said Palmer. "In fact, these young women will be playing crucial characters in the story and will be challenged to do some of the hardest, most dramatic roles in the show."
Each actor and crew member will be a paid, professional member of the Bag&Baggage company during the show and will receive invaluable experience and training to prepare them for a career in the professional performing arts.
"This is a unique opportunity for students who want to pursue a career in theatre to get their feet wet," said Greer. "In fact, it is more like jumping in at the deep end. Each student will get training and coaching and will also be able to put their first ever professional performance on their resume."
Students interested in participating in the free audition workshop, seeking more information about auditions or crew positions, should contact Bag&Baggage at info@bagnbaggage.org. The Crucible runs throughout September at the Venetian Theatre in downtown Hillsboro. More information on Bag&Baggage can be found online at www.bagnbaggage.org.
MORE DETAILS ABOUT THE WORKSHOPS AND AUDITION/APPLICATION PROCESS – CLICK HERE!
# # #