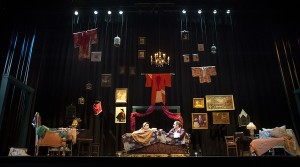 By Tina Arth and Darrell Baker
Long before the advent of Kim Kardashian and Justin Bieber, there were spoiled rich folks whose every breath seemed to be a waste of oxygen. When he wasn't busy acting or writing songs like the beautiful and poignant "Matelot" and the hilarious "Don't Put Your Daughter on the Stage, Mrs. Worthington," Noel Coward put pen to paper to crucify both the bourgeoisie and the morally vapid, self-appointed crème de la crème of his era. Bag and Baggage's current production of Coward's Private Lives brings all of the playwright's razor-sharp wit to downtown Hillsboro, a locale so geographically and socially removed from 1930's Paris that the play's characters would find it utterly appalling – that is, if they could be bothered to have an opinion at all.  Director Scott Palmer and his five cast members exploit every nuance of the script, and the result is alternatively angry, combative, passionate, ennui-laden, and on occasion just too, too civilized.
The plot is in many ways as empty as the lives of its characters. Elyot Chase is honeymooning in the south of France with his second wife, Sybil. The newlywed couple next door is, coincidentally, Elyot's first wife, Amanda, and her new husband Victor Pryne. It is clear that Elyot is thoroughly bored with Sybil, and annoyed by her incessant harping on the details of his first marriage. The stuffy Victor is the object of Amanda's thinly veiled contempt – at best, his clumsy ardor is rewarded with air kisses. Elyot and Amanda discover their proximity to each other, and immediately reignite the love-hate relationship that characterized their marriage.  Abandoning Victor and Sybil, Amanda and Elyot run off to wreak havoc in Amanda's Paris flat as they wallow in an alcohol-fueled frenzy of passion and fisticuffs. When Victor and Sybil track them down the morning after a particularly violent fight, the two spurned spouses agree to wait a year before initiating divorce actions to see if Elyot and Amanda really want to continue their relationship. Victor and Sybil begin to bicker, inexplicably defending their respective spouses, and it becomes clear that they, too, are a match made in hell. The fun is intermittently interrupted by the arrival of Louise (Theresa Park), the French maid who is expected to literally pick up the pieces. Her working class voice of reason provides the show's only moments of sanity, despite the fact that her harangues are delivered in fractured French – one does not need to understand the actual words to capture the depth of her contempt for her spoiled and self-absorbed employers.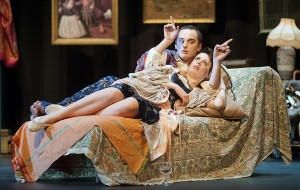 Adam Syron (Elyot) and Chrissy Kelly-Pettit (Amanda) play their roles with venomous aplomb, moving from lassitude to frenzy and back with dizzying haste. They capture an odd sexual ambiguity that seems to be equated with intense passion. Ironically, it is the manly Victor (Gary Strong) and the feminine Sybil (Arianne Jacques), who are curiously sexless. Jacques' tightly wound performance provides a nice complement to Strong's blustering propriety – they are much more convincing as a couple than as mates to Syron and Kelly-Pettit.
Costume designer Melissa Heller has outdone herself with Private Lives – the period clothing captures the art deco flavor of the era with impeccable fidelity. The sparsely elegant symmetry of the first act set contrasts strikingly with the cluttered shambles we see in the second act, providing a visual parallel to the characters' descent from order to emotional chaos in the play.
Bag & Baggage's Private Lives is playing at Hillsboro's Venetian Theatre, 253 E. Main Street, through May 30th, with performances Thursdays, Fridays and Saturdays at 7:30 pm and Sundays at 2:00 pm.