"Be in the moment. Listen and respond authentically. Focus. Be present. Treat the scene as if it were the first time this had ever happened. Feel deeply.
Oh, and also deal with a zipper that doesn't close, a 4 piece quick change, move the heavy box to the pink spike marks (the pink, THE PINK!), keep your face towards the audience, don't look directly into the spotlight, keep the manacles on, say all the letters in all the words, and make sure your powdered wig is on straight.
But, really, truly…. most importantly , be in the moment."
Yeah, right.
It's insane, what I ask of actors. It's hilarious, actually. No, more than that, it's completely irrational. It's like a plot from a Mission:Impossible movie, only with less money for stunts.
Literally, I am asking these talented young people to ACT and also MANAGE A WALMART ON BLACK FRIDAY. At the same time. With costumes. Faster than last night.
What. The. HELL?
But here is the even more ridiculous thing: they do it. They actually do it.
It is hard being an Artistic Director. No, really, it is. Fundraising, press relations, grant writing, donor stewardship, casting and auditions, blah blah blah. But being an Artistic Director is nothing compared to having to act in Our Country's Good, and these actors are not only doing that, they are doing it very, very well.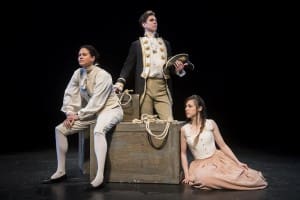 Everyone plays multiple characters; everyone has multiple lightning-fast quick changes; everyone moves heavy objects around the stage, moves in choreographed silhouettes, tracks tiny props, speaks in a variety of dialects, and does so while also trying to create a believable, authentic series of emotionally compelling relationships…
It's a freaking miracle that they haven't stormed out of the Venetian in protest over cruel and inhumane treatment. But they don't. In fact, they come back each night and work harder, do it faster, dig deeper, focus more, and get the job done.
I am in awe of these people.
Of Jessi and her ability to create such specific bodies for her characters and her skill at giving a tiny supporting role such depth and humanity in the space of 12 lines.
Of Colin and the way he can make a despised outcast into an emotionally vulnerable, delicately broken heartbreaking man.
Of Clara and her unassailable commitment that she can do better, dig deeper, and make Liz Morden even more gut-wrenching every single night.
Of Arianne and Cassie and Damaris, who bring such clarity and specificity to their roles…Of Andrew and Pete and Luke, who are always hungry for more notes, more ways to improve, never happy with where they are…Of Gary, who brings joy to every word he says…Of Emily and Amanda who do the dirty work of tracking blocking and cleaning up chalk marks so that the actors can do their thing…of Molly and Mel and Megan, who bring their own creativity and insight to every show just so that I can benefit from their genius.
Why? It's not like any of us are getting rich. It's not like any of us are about to be snapped up by a big Broadway theatre company and offered a billion dollars a year to sit back and be clever. We are here in Hillsboro, Oregon working ourselves to exhaustion on a play written in the 1980s about the founding of Australia and…for what?
For each other.
I love these people.
Artists.
I love them in the very specific sense that they are cool people who make me laugh and have good hearts, yes…but I also love them in the general sense.
I love that they are willing to give so much of themselves to their craft. I love that they are eager for truth and honesty and authenticity in a world where those qualities are rare. I love that they are never happy with their own work, always desperate to improve. I love that they are generous and petty, flawed and furious, inappropriate and sensitive, gloriously egocentric and selflessly giving, that they are desperate and disappointed, starving and starry-eyed, breakable and made of steel.
It's alchemy. Sorcery. You put all of these things in a building with some front lights, mix it together for a few weeks, and just watch what happens.
Magic.
I can't wait to see it unfold on Friday night. Come and see why I have the best job in the world.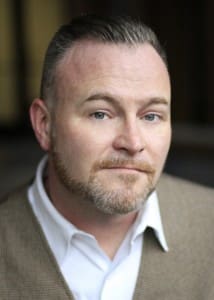 Scott Palmer
Artistic Director
Bag&Baggage Productions