Kymberli Colbourne talks about getting ready for her history-making turn as Captain Ahab!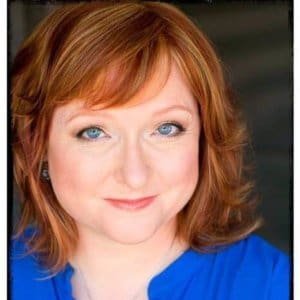 When I was five years old, my Uncle Bryan — who was and is a professional actor –came thru town doing some pantomime shows and put me into one of his performances. I can still remember rehearsing with him in the basement of our local church.
I was a little girl playing a little girl coming into a candy shop, struggling to pick out some candy, finally making a decision and enjoying the candy as I skipped out of the shop. The theatre bug had taken it's first bite.
I then had the chance to see The National Theatre Of The Deaf perform "My Third Eye" when I was about 6 years old. I told my mother after that performance that "that is what I am going to do someday".  And from that moment on, I could not get enough of performance. School plays, church choirs, you name it. I wanted to do it.
I entered Scripps College in pursuit of a Theatre Performance/Communications degree. But not long into my college career, theatre became my sole focus. I love walking in a characters shoes, A to Z, every night in front of a different audience…especially when it is a character who has a dynamic arc. Show to show, breathing the breath of that character in room full of different energy. Playing with my fellow actors as we discover, create, rediscover, recreate the world of the play with the audience. Nothing better.
While in college, I had the opportunity to play Hamlet under the direction of J Ranelli – one of my favorite theatre professors. Hamlet was the biggest, meatiest, most bad-ass role I had ever played. And while there were very talented male actors in the department, I was thrilled to be cast in the role.
I was so freaked out about remembering all those lines..we did it uncut. I remember grabbing my script one morning at about
2am
when a fire alarm went off in our dorm and running lines with my roommate while we sat on the curb outside waiting for them to let us back in the building. It was a transformative experience for me as a young actor playing Hamlet. The chance to sink into that rich language…the anguish of loss…the confusion of the new order…the idea that revenge is not only a personal desire but a familial obligation. With that experience, "why not?" was unlocked for me. Why not a female Hamlet? Why not a female Cassius? A female Ahab? The experiences of those characters are humanly universal in scope and why shouldn't every actor, male or female, have the opportunity to bring their life experience and their perspective and exploration to such character.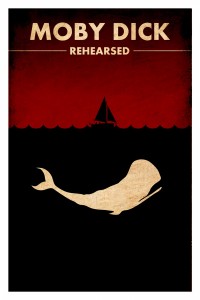 I am feeling many of the same feelings as I have the opportunity to take on the mantle of Lear/Ahab.
As I anticipate the opportunity to be the first woman to play Ahab in Moby Dick, Rehearsed,  I can honestly say I am equal parts excitement and terror — which, for me, is the best possible place to start any creative endeavor. I naturally feel the weight of being trusted with being 'the first', but at the same time I am humbled and energized by the trust placed in me by Scott and the Welles Estate. I cannot wait to get started!
I spent my junior year abroad in London training in a full year conservatory program run by Marymount Tarrytown University. Basically, we were getting the second year training from the RADA curriculum, right down to the same teachers.Our housing was literally across the street from RADA…and out classrooms around the corner. Our professors would come from their RADA classes to teach ours. There were only 12 of us in that class…and this was my first real feeling of 'company' and deeper ensemble work. We formed very deep connections and worked like fiends that entire year. I developed and recognized an amazing toolbox of skills during my year there that has truly made me the actor I am today.
During my senior year, I went to NYC to audition for a 2 year position as a company member with the National Theatre Of The Deaf, where once again, J Ranelli directed the first show I did with the touring company. I was lucky enough to be a full-time actor just 10 days out of college, and that set to tone for my rest of my professional life. I knew life as a working actor was possible and I would settle for nothing less.
Since receiving my BA in Theatre Performance from Scripps College, I have enjoyed a 20+year career as a professional actor.  I have worked for many different companies and had the chance to play a plethora of different characters — most compelling for me,  a few that were either cross-over casting or roles for which I was much too young. For example, I played Cassius, usually played by a male, and in my mid-20's, Old Mad Margaret in Richard III, both for the Seattle Shakespeare Festival.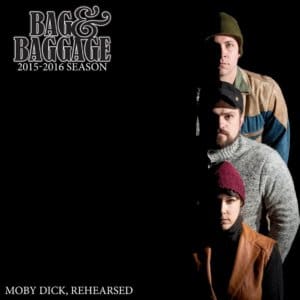 For me, something magical happens when I am cast against type or age or sex — it feels like I am being given a 'get out of jail free' card, in a way. First, it says to me, that I am trusted by the director…that he or she sees a possibility deep in me as an actor that others may not. And this gives me great courage to really go for it. All bets are off. The director has paved the way by stretching the conventional expectations of the audience by letting me have the part…so I feel equally free to stretch the character, the world and my own capabilities. It is exhilarating, exhausting and exactly the opportunity I live for as an actor.
Ahab is a whale of a role, pun intended. Everything about him is huge…his obsession, his drive, his hubris. I love the connections drawn in this script between Ahab and Lear — another larger-than-life, epic character. The marriage of the stories of these two giants of literature and drama underscores the universal experience of what happens when power, dominance and the need to hold on to it at all costs, blinds us. When we as individuals, communities and nations buy into our own 'mission' so deeply, that we fail see that the actions taken in that pursuit may actually be the undoing of the mission itself.
I am so excited to be working with the Bag & Baggage company of actors, with Scott, and with the language and world of Melville and Shakespeare. I can't wait to dive in.
Kymberli