FOR IMMEDIATE RELEASE
Clashing Cultures, Forbidden Love, Unreasoning Hate: A New Vision Of Romeo & Juliet
A World Premiere Adaptation Fusing William Shakespeare's Great Tragedy With The 12th Century Persian Poem "Layla and Majnun" by Sunni Poet Nizami
Hillsboro, OR –  Two "star-crossed lovers" rebel against the edicts of their parents, embrace their forbidden love, and pay the ultimate price.
Sound familiar?  You are probably thinking Shakespeare, but if you are of Middle Eastern descent, you might be thinking of Nizami Ganjavi; and both are right.
William Shakespeare's Romeo and Juliet has been described as timeless, and as one of the greatest works in all of Western literature. But there is ample evidence to suggest that the Bard's story of feuding families is actually inspired by an ancient Persian Muslim tale called Layla and Majnun. Bag&Baggage, Hillsboro's resident professional theatre company, presents a world premiere adaptation of Romeo and Juliet that fuses the romantic, haunting poetry of Nizami's Layla and Majnun into Shakespeare's play, re-imagining the Bard's tragic, youthful lovers in ancient Persia during the time of Emperor Constantine.
Romeo and Juliet (Layla and Majnun) will be performed outdoors at the Tom Hughes Civic Center Plaza from July 20 – August 5, 2017. Adapted and Directed by Founding Artistic Director Scott Palmer, the show is the first production in B&B's 2017-2018 season. Tickets are available online at bagnbaggage.org.
"It is so important, especially today, to understand that the East and the West have powerful and profound historical connections," said Palmer. "What many in the English speaking world consider the greatest tragic love story ever written was actually inspired and shaped by the greatest tragic love story of the Muslim world."
Written in the 12th century by Nizami Ganjavi, one of the most celebrated poets in all of Muslim literature, Layla and Majnun has been a staple of Arabic folk-lore and art for more than a thousand years.
The Nizami Ganjavi Center in Azerbaijan describes the poet as "a 12th-century Azerbaijani poet, considered the greatest romantic epic poet in all of world literature. His poetry has influenced the development of Azeri, Arabic, Turkish, Kurdish and Urdu poetry amongst many other languages, but also modern writers and musicians like Eric Clapton whose global hit "Layla" was inspired by Nizami's story of Layla and Majnun."
Based on Arabic folk-tales from the 5th Century, Nizami's epic poem has been the inspiration for a host of European love stories  as well, including Tristan and Isolde, the French Aucassin et Nicolette and, of course, Shakespeare's Romeo and Juliet.
"The parallels between the two tales are really astounding," said Palmer, who has spent the last four months working on the adaptation. "Reading the two works side by side, there is just no question that Layla and Majnun had a powerful, although indirect, influence on Romeo and Juliet."
The adaptation is a fusion of the two works, says Palmer. "It isn't Romeo and Juliet and it isn't Layla and Majnun, either. It is a combination of the two, and I focused my attention on those aspects of the stories that shared the most commonalities."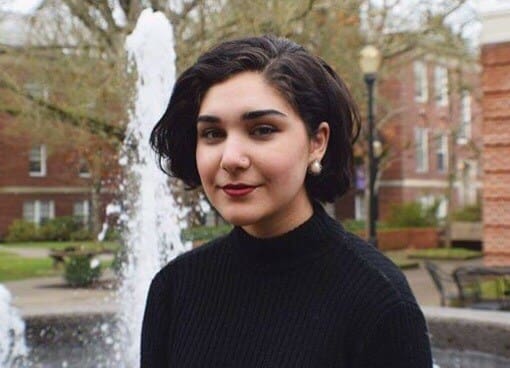 Given the specific nature of Nizami's poetry, and the powerful influence of his Sunni Muslim faith, Palmer has reached out to a number of Middle Eastern, Muslim, and Persian artists to help ensure the production is authentic. "Melory Mirashrafi, who is a Persian-American student at Linfield College and a graduate of Hillsboro High School, is working with us as my Assistant Director," said Palmer. "Melory is an amazing theatre artist in her own right, and is assisting the cast and crew with translation, with pronunciation of Persian and Farsi terms, and providing insight into Persian culture and the historical role that the Islamic faith plays in the character's lives."
In addition, Melory's younger brother Avesta Mirashrafi, a Junior at Hillsboro High School, is a member of the acting company, along with Mandana Khoshnevisan, who plays Lady Capulet, who is also of Persian descent. Palmer has also been working with Professor Michael Najjir at the University of Oregon specifically on representations of Muslim characters on American stages.
"Being both half Persian and a student of Shakespeare, I'm delighted to be a part of this poetic fusion of a production," said Khoshnevisan. "It really is powerful and refreshing to see the familiar made new again."
Romeo and Juliet also features B&B Resident Actors Arianne Jacques as Juliet and Cassie Greer as Benvolia. They are joined by B&B Associate Artist Eric St. Cyr as Ibn Salam, Colin Wood as Nawfal, Lawrence Siulagi as The Sayyid, Nicholas Granato as Romeo, Signe Larsen as Tybalt, and Gary Ploski as The Storyteller. Jim Ricks-White is the Lighting Designer and Melissa Heller is the Costume Designer.
Romeo and Juliet (Layla and Majnun) will be performed outdoors at the Tom Hughes Civic Center Plaza, 150 E Main Street in Hillsboro, on Thursday, Friday, and Saturday evenings at 7:30pm from July 20 through August 5, 2017. As this is an outdoor performance, audience members are encouraged to bring lawn chairs or blankets for seating, and to dress warmly as Hillsboro's summer weather can be variable. More information can be found online at bagnbaggage.org, or by calling the B&B Box Office at 503 345 9590.
# # #
Calendar Listings:
Romeo and Juliet (Layla and Majnun)
By William Shakespeare, with adapted text by Nizami Ganjavi
Adapted and Directed by Scott Palmer
July 20, 21, 22, 27, 28, 29, and August 3, 4, and 5, 2017
The Civic Center Plaza, 150 E Main Street, Hillsboro
Thursday, Friday, and Saturday at 7:30pm
www.bagnbaggage.org or 503 345 9590