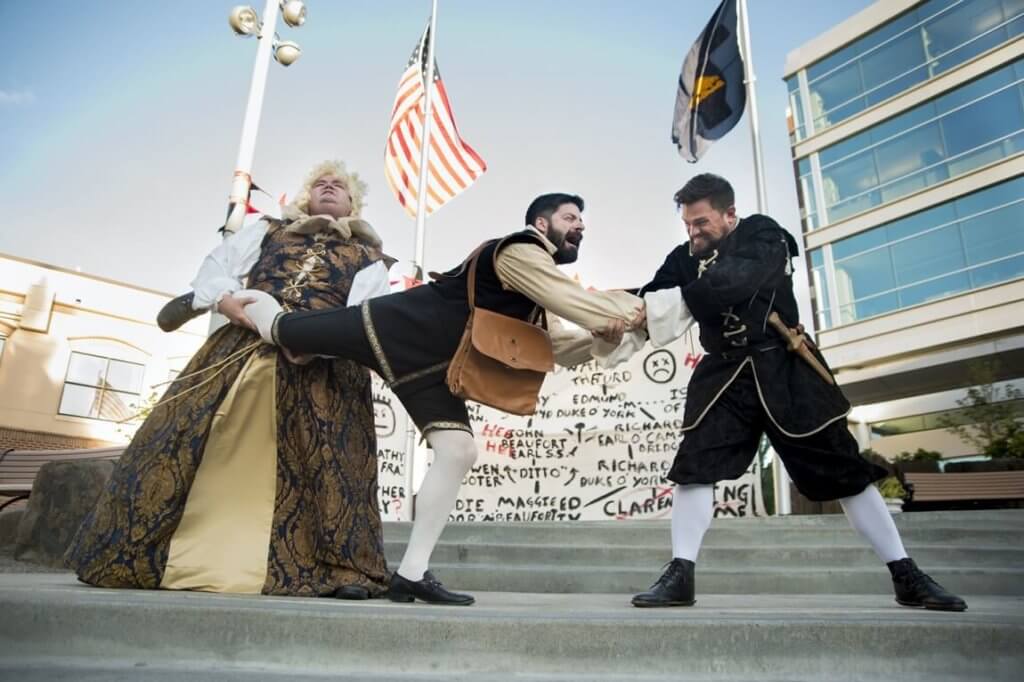 By Tina Arth
Scott Palmer, Artistic Director of Hillsboro's Bag  & Baggage, is notorious for his irreverent interpretations of Shakespeare's hallowed output – but this summer's plein air cartoon version of the (usually) dark and violent Richard III scales new heights of cheerful absurdity. I had read enough of the copious pre-production press to be expecting a dose of Monty Python colored with a hint of Three Stooges, but was caught off guard by ("wait for it…") a soupçon of Barney Stinson in the mix.
Like many of Shakespeare's works, Richard III as originally written is a bit too complex and dreary, and way too long, for some theater goers unless it simultaneously fulfills a course requirement in an English Lit class. Once Palmerized, however, it is not only tolerable, it's actually entertaining – the lofty Shakespearean language combined with admirably low comedy (and the occasional severed head) yields a remarkably funny amalgam that keeps the audience alert and engaged throughout. Two time-honored clichés ("Now is the winter of our discontent" and "My kingdom for a horse!") at the beginning and end of the show are a jarring reminder to the audience that we are seeing real Shakespeare stuff, no matter how dramatically altered the lens through which it is viewed.
Even as simplified by Palmer, the story itself is a bit convoluted (much like the actual history on which it is based). Luckily for the audience, all is made clear by the witty and thoroughly diverting backdrop, a graffiti-bedecked sheet that succinctly summarizes the era's history with crude org charts, a hangman's noose, and pithy phrases like "some other Henry" and "King = me". The backdrop does double duty, for in addition to offering a much-abridged version of the tale it also hides the Tower of London's unseen, but often heard, unkindness of ravens (although, given the story, perhaps the less common "conspiracy of ravens" would be more appropriate).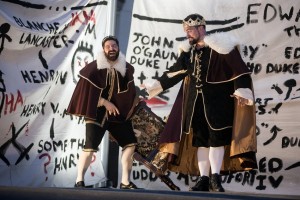 With the wrong cast, Palmer's adaptation could be puerile – but the five Bag & Baggage company members and an equal number of newcomers pull off the show's 18 roles with impressive versatility, sliding smoothly between slapstick and intense emotion. Peter Schuyler plays Richard as a murderous scamp who happily shares his somewhat distorted worldview with the audience in frequent asides – we are supposed to like him, and we do. Cassie Greer pulls off Lady Anne's ditzy affect (and spectacular headgear) quite nicely, but her finest (long…) moment is when, as the Duchess of York, she storms off stage left – her tiny mincing steps as she s-l-o-w-l-y propels her walker across the seemingly endless steps of the Civic Center Plaza.
It is a credit to the cast that they even try to keep the action going while the audience's attention keeps shifting to Greer's agonizing exit.
Shakespeare aficionados should love Bag & Baggage's production for the same reasons that Universal Monster fans love "Young Frankenstein" – knowing the content and conventions makes the shtick even funnier. For the rest of us, Richard IIIis a fine way to introduce one of Shakespeare's longer and bloodier dramas in an accessible, charming, and abbreviated format that sneaks a touch of high culture into an evening of laughter.With the aid of Melissa Heller's colorful and flamboyant costumes (and a gargantuan wig) Gary Strong has way too much fun in his dual roles as Queen Margaret and the Bishop of Ely.  However, the best hair award must go to a newcomer, the impossibly lanky Sam Jones, who rocks Lord Rivers' flowing tresses with a campy feminine mystique as he prances around the set figuratively (and sometimes literally) throwing himself into the action.
Bag & Baggage's production of Richard III runs Wednesday – Saturday through August 1st with shows at 7:30 p.m. All performances are held at the Tom Hughes Civic Center Plaza, 150 E. Main Street, Hillsboro. Please bring your own chair – no seating is provided!
Posted by Westside Theatre Reviews at 3:47 PM