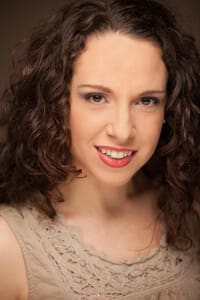 As a character actress, roles like Myrtle aren't uncommon for me (which I don't mind one bit).  They are my bread and butter, and I love every moment I get to spend with them.
These are loud people, who are honest, hilarious and eccentric (sound familiar?)  But they can also be ridiculously shy, or terrified, or reserved.  Which gives me an incredible rush; a high that brings me back to the stage, always hungry for more.  I feel fortunate to play these characters, who embody something I find most valuable in others: to be utterly genuine.
As I think back on past roles, I love that these gals aren't afraid to point out the truth (usually doing so with sarcasm, humor, or wit).  They often times have no qualms with using sex to their advantage, in order to get what (or who) they want.  The kind of women who'd say "buckle your seat belts boys, it's gonna be a bumpy night"
However there is one big difference in Myrtle's story.  She doesn't get what or who she wants.  She unravels.  Her devious plan falls apart.  Myrtle tries to shamelessly climb her way out of the lifestyle she's fallen into.  But her dreams are, quite literally, run over like a dog in the street.
Myrtle's destruction is fascinating and scary, mainly because it's not uncommon.
She was likely forced into a marriage, destined to die in the same town she was born in, and was destined to lead a life watching others come and go as they please.  The only way she could see a way out was to ride the wealthy men who came through town, in hopes that they would take her away from this "terrible place".
And it never happens for her.
Which is different for me, as an actor.  Usually, the characters I play get at least one thing that they want.  Not this time.  This time I have to pull out the tears, the fear, and purge it all.  It's a new kind of rush.
I've loved delving into this role.  It's been a challenge knowing I'd have to build Myrtle up with every hope and expectation that everything would be coming up roses; but deep down I know that she's only an expendable toy for the rich man's fancy.
Best wishes,
Megan Carver