…DEEP DOWN IN THEIR PRIVATE LIVES
Bag&Baggage Productions presents a delightfully dangerous finale to the 2013-2014 Season with Noel Coward's comedic masterpiece
Hillsboro, OR – "There is something dangerous underneath these hilarious words," said Scott Palmer, Artistic Director of Bag&Baggage Productions and Director of the company's final show of the 2013-2014 season; Noel Coward's Private Lives.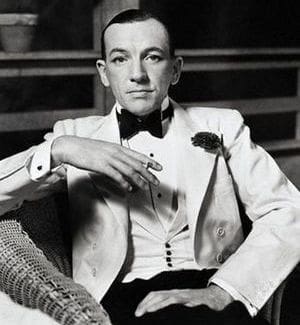 Described as the infamous British playwright and composer's greatest work, Noel Coward's Private Lives is a comedic tour-de-force of barbed wit, gender politics and Coward's trademarked whip-smart repartee. But, according to Palmer, there is more to this show than just stunning period costumes, cocktails and comedy.
"Coward himself said he felt the play was psychologically imbalanced," Palmer said. "For our final show of the season, we are going to embrace both the brilliantly witty language Coward is famous for and, at the same time, look for what Coward describes as the dangerous rocks submerged beneath its surface."
Private Lives is not only Coward's most popular play, it is also the play that cemented Coward as one of the most popular and controversial playwrights in Western cultural history. "Coward was a profoundly provocative character and he was also a hugely influential figure in popular culture throughout Europe," says Palmer, whose research into Coward's life and the historical and cultural context of the 1930s have shaped his approach to the performance. "As with all Bag&Baggage shows, our Private Lives will be very different from other productions people may have seen."
"Digging deeper into these works is just what we do," said Arianne Jacques, a member of B&B's Resident Acting Company who plays Sibyl in Private Lives. "We spent a lot of time at the first rehearsal talking about influential artists from the 1930s like the painter Edward Burra, the photographer George Brassai and the novelist Evelyn Waugh. We discussed the revolutionary thinking that was taking place in the 1930s and 1940s on the Left Bank in Paris and how these figures and philosophies may have impacted Noel Coward and how they are reflected in Private Lives," Jacques said. "It isn't what you would normally expect from a first rehearsal for a Noel Coward play."
Bag&Baggage's production of Private Lives will feature stunning Bohemian-Rive Gauche 1930s period costumes by B&B's Resident Costume Designer Melissa Heller who has received critical acclaim for her designs, including custom-designed kimonos for the company's 2012 hit Kabuki-Titus, 1950s black and white television sit-com designs for The Merry Wives of Windsor and gritty, depression era-realism in Of Mice and Men. Scenic designer Melissa Wilkerson will create the set designs fresh off her work with Bag&Baggage on Lear, It's A (somewhat Wonderful) Life, The Great Gatsby, LEAR and ART's Xmas Unplugged.
The cast features four Bag&Baggage Resident Acting Company members; Adam Syron as Elyot, Arianne Jacques as Sibyl, Gary Strong as Victor and Theresa Park as Louise. Joining the resident company members is Chrissy Kelly-Pettit (recently see as Mary Hatch in Stumptown Stage's It's A Wonderful Life, Shaking the Tree's Wilde Tales, and Broadway Rose's My Fair Lady) as Amanda.
Performances take place at The Venetian Theatre in downtown Hillsboro from May 8 – 30, 2014. More information can be found online at www.bagnbaggage.org or by phoning the Box Office at 503 345 9590.
# # #
Calendar Listings:
Private Lives by Noel Coward
Directed by Scott Palmer
May 8 – 30, 2014
Preview Performance: May 8, 2014
Opening Night: May 9, 2014
The Venetian Theatre
253 E Main Street
Hillsboro, OR 97123
Tickets: $20 – $30 (depending on section)
503 345 9590 or www.bagnbaggage.org