The press blitz for The Great Gatsby continues with our strongest review yet! Holly Johnson, Theatre Critic for The Oregonian, gushes about almost every aspect of the production but is particularly fond of the visual elements and the powerful acting style. Here is the review in full:
Great Gatsby on stage in Hillsboro is well-crafted, lyrical (review)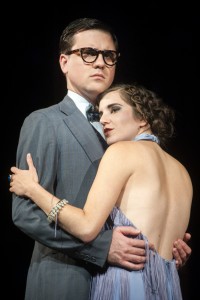 Simon Levy's exquisite adaptation of F. Scott Fitzgerald's classic novel "The Great Gatsby" is so well-crafted, lyrical and so completely whole unto itself that we're mesmerized as we watch the actors with Bag & Baggage Theatre spin out the story together onstage at Hillsboro's Venetian Theatre as if for the first time. It's a tale that appears to float behind a gauze of memory, but one that grabs us with fervor and spins us around emotionally. The play exudes a surreal quality, and director Scott Palmer uses stylized movement to augment a sense of memory, creating tableaux vivants of actors clustered in various scenes.
By distilling the language, Levy manages to pare down lines and descriptions from the book, stripping the dialogue to the bare essentials. It not only clarifies the narrative but also creates the strong backdrop permeating the work, the 1920s in East Coast America during the Jazz Age, surrounded by the glamorous mansions of the rich, a sense of wreckless abandon, boundless wealth, and an emphasis on the youth culture.
Some lines spoken by the glamorous, tortured Daisy (played by the superb Cassie Greer) are taken from letters by Fitzgerald's wife Zelda, a manic-depressive whom Daisy resembles, but the rest are from the book. The mysterious millionaire Gatsby, portrayed with boyish hopefulness and heroic tenderness by Ty Boice, is a golden boy in his white tux under a star-spangled night, or as Daisy describes him, "gleaming like silver." Greer, with her melodic deep voice, keeps Daisy on edge, and when she finally meets up with the besotted Gatsby, who has sought her out to lay his opulent Long Island lifestyle at her feet, she's restless, passionate yet ultimately doomed, and it's all packed in Greer's performance. Even in love, the rich can't always make things work. One of her lines of endearment to Gatsby is surreally romantic: Looking at the sky, she murmurs, "I'd like to get one of those pink clouds, put you in it and push you around." Not something you would hear today.
As in the book, the narrator Nick Carraway, Daisy's cousin, has an important role in simply telling the story to the audience when there isn't dialogue to carry it. Ian Armstrong sketches him effectively, playing him as a neutral, likable young man in horn-rimmed spectacles, who's tentatively tasting, and enjoying, the pleasures of booze and the company of flappers. He's middle-class, just back from World War I, and a bit dull next to the swirl of rich socialites he's living next to. He's a singular Greek chorus, at the end, describing the carelessness of the wealthy: "You smash up things and creatures and then retreat back into your money." As Daisy's husband Tom Buchanan, Colin Wood comes across more Tony Soprano than a millionaire who played football at Yale, but he offers some great physical scenes with Megan Carver, who plays Myrtle, his volatile working-class mistress living in an urban dumping ground.
The only thing I thought unnecessary and distracting were enlarged lines from the book projected periodically upstage, reminding us, one supposes, that this is a short novel and not a play. We didn't need to read the lines: We were too busy listening to them. However, the sound design created by Palmer, including plentiful '20s dance music, anchored us in a time and place.

Gatsby may gleam, but so does the entire visual production, with lovely authentic costumes designed by Melissa Heller, and breath-taking enlarged images projected upstage; giant party lanterns, a pantheon of night stars, the glimmering aqua of a swimming pool (Lighting designer Jonathan "Bearclaw" Hart deserves kudos). If you seek strong theater with crystalline acting, eye-popping visuals and a script lovingly shaped from a classic about chasing the American dream, don't miss this. The production is an Oregon premiere.
What: The Great Gatsby.
Where: Bag & Baggage at the Venetian Theatre, 253 E. Main Street, Hillsboro.
When: 7:30 p.m. Thursdays through Saturdays, 2 p.m. Sundays through Oct. 20.
Tickets: Adults $26-$30; Students and seniors: $20-$24
Contact: bagnbaggage.org or (503) 345 9590
Click Here to see the Oregonian Review ONLINE!