Tina Arth and Darrell Baker of Westside Theatre Reviews and the Community Newspapers had a jolly-old-murderous time at Dial "M" For Murder! Read their review below or online here!
This year's Bag & Baggage homage to the spooky season has no zombies, werewolves, nor vampires – rather, it is a play having fun with dark themes of murder and intrigue. Playwright Fredrick Knott's Dial M for Murder is complex and convoluted, but Director Brandon Woolley and his cast lead the audience carefully along, ensuring that everyone is in on the fun.By Tina Arth and Darrell Baker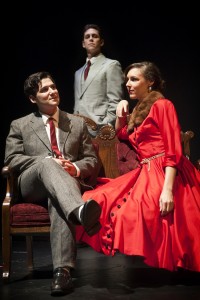 Unlike conventional mystery stories, there is never any doubt about who is responsible for the various misdeeds. In 1950s London, professional tennis player Tony Wendice (Andrew Beck) suspects his wealthy wife Margot (Cassie Greer) of infidelity with American hack mystery writer Max Halliday (Luke Armstrong).  Tony, who will inherit Margot's estate, blackmails an old college acquaintance, Captain Lesgate (Dennis Kelly) into a plot to murder her. Tony arranges to go dinner with Max at the time of the murder, giving him a perfect alibi for the perfect crime – which turns out to be less than perfect, as often happens with such plots.
Phillip J. Berns is surprisingly funny as the officious and self-important policeman Thompson. The real hero of the story is Inspector Hubbard (Judson Williams), the detective who not only unravels the murder plot but also cleverly entraps the guilty husband. Williams' precise diction as he explains things to Armstrong and Greer (and, coincidentally, to the audience) makes the plot crystal clear to all listeners, both on and off the stage.Beck's portrayal of the evil husband is satisfyingly one-dimensional – his ennui-laden self-absorption and cool delivery leave no doubt that he lacks any redeeming qualities, and his veneer of charm is paper-thin. Although she makes concessions to save her marriage, Greer is no doormat. Her crisp, clipped British accent, upright carriage, and occasional sparks of defiance make it quite clear that she is a force to be reckoned with even before she picks up the scissors. Luke Armstrong, true to his American character, shows none of the stiff upper lip of his British counterparts – he displays believable passion and panic when faced with Margot's impending execution. While Dennis Kelly does a creditably weak and sleazy job of playing the unintended victim, the biggest laugh of the evening is his frozen countenance when his corpse is rolled toward the audience.
Scenic designer Megan Wilkerson has created a set that is detailed and elegant, and her use of frames gives the audience a clear view of key elements outside the living room of the Maida Vale flat. The rain curtain, while appropriate to the story line, is a bit distracting and perhaps unnecessarily telegraphs an important plot point before its time. Lighting and sound conspire with careful blocking to keep the audience engaged and aware of every twist in the story line.
Bag and Baggage presents Dial M for Murder at Hillsboro's Venetian Theatre, 253 E. Main Street, through Sunday, November 2nd.