Bag&Baggage Announces New Audience Engagement Program:
The Magazine Series
Major Sponsorship From Leonard and Susan Magazine Will Fund A Season-Long Lecture Series Exploring The Historical, Adaptive, Design and Performance Elements of All Bag&Baggage Shows
Hillsboro, OR – Leonard and Susan Magazine are no strangers to Portland-area theatre. Self-described "theatre fanatics," Leonard and Susan see upwards of 5 shows a week and subscribe to more than 30 theatre companies, including Hillsboro's resident professional theatre, Bag&Baggage Productions. In fact, Leonard and Susan are most often found at a Sunday Bag&Baggage matinee so that they can attend the post-show talk back with the cast and crew.
"I look forward to every Sunday matinee during the season," said Scott Palmer, Bag&Baggage's Founding Artistic Director. "I never know which Sunday Leonard and Susan will attend, but I know for a fact that they will be in the audience for a cast and crew talk-back. They don't just love theatre, they love to talk about how theatre is made, why it is performed and how it can change the world. That is what makes this partnership so perfect; the sponsorship from Leonard and Susan will help B&B reach out to hundreds of our patrons to engage in deeper and more meaningful conversations about our work."
The Magazine Series is a new audience engagement and outreach program, funded by the couple, that will see directors, academics, designers, actors and other theatre professionals presenting lectures and discussions related to each of the shows in B&B's 2014-2015 Season.
"I know that Leonard and Susan are incredibly interested in our work with Shakespearean adaptations," said Palmer. "So, for example, one of The Magazine Series will be on the original source materials and Restoration-era adaptations I used for our script of Love's Labour's Lost. Our audiences will have the chance to learn more about the unique way B&B approaches Shakespeare, helping them get to know us better and connect our work to them in more profound ways."
The Magazine Series lectures and discussions are free and open to the public, and will take place immediately prior to every Friday performance by Bag&Baggage throughout the 2014-2015 Season. The first lecture, Love's Labour's Lost…It's A Tricky Script, will take place on Friday July 25th immediately before that evening's performance of Love's Labour's Lost at the Tom Hughes Civic Center Plaza in downtown Hillsboro.
Other lecture topics will include local connections to the Salem Witch Trials during the September production of The Crucible, the importance of Dial M For Murder to the career of Alfred Hitchcock during the October run of Fredrick Knott's play that inspired the film, and an examination of historic all-female productions of Shakespeare's work during The Six Gentlepersons of Verona, B&B's all-female, world premiere adaptation of The Two Gentlemen of Verona.
"There really is no end to the topics and discussions we can have during the series," said Palmer. "What is most important to us, and to Leonard and Susan, is that our audiences find themselves more engaged, more connected to our work as a result of this free lecture series."
Information and the schedule of events for The Magazine Series will be posted on the Bag&Baggage website under the "Plays and Events" page; www.bagnbaggage.org.
# # #
About Leonard and Susan Magazine: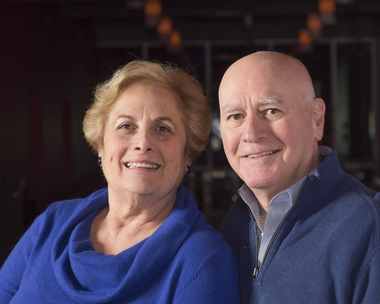 Susan was born in New York into a music business family, E. B. Marks Music Publishing Co., and enjoyed Broadway musicals as a child. After marriage and two children, she worked in health care, retiring in 1999. In 1991, she and Leonard started their own business, Real Estats, (www.realestats.net) analyzing residential real estate activity in the Northwest. Leonard has been involved in the residential real estate market since 1969, with 22 years on Wall Street in housing finance.