Gregory Zschomler of SW Washington Stage & Theatre Arts Review LOVED Love's Labour's Lost! Check out his review online, or read it below!!!
Bag & Baggage Production of Shakespeare's "Love's Labour's Lost" Magnifique!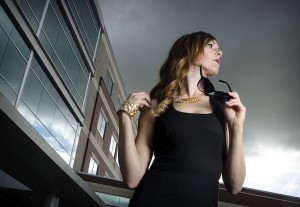 Shakespeare in the Park…No one knows how, when or where it began. Could be, perhaps, it began with the Bard himself before he gained any semblance of notoriety. Perhaps he was just a lad, playing sketches before his friends on the lawn?
However it began, it has certainly proved a popular and cheap way to stage the royalty-free works. I first experienced the joy of outdoor Elizabethan Theatre some years ago with a production of "The Taming of the Shrew" in Vancouver's Esther Short Park. And the tradition continues with this production of "Love's Labour's Lost" presented by Bag & Baggage in Hillsboro, Ore.
It's not frequently that you'll be able to catch the obscure "Love's Labour's Lost," as it is lesser known and somewhat unpopular "lost" Shakespearean work. So, catch this one while you can and enjoy a lovely "open air" evening with a great, professional cast.
The adaptation, by Scott Palmer, based primarily on an earlier adaptation is quite truncated from the original three plus hour play and clocks in at less than two hours.
The plot is loose, convoluted and not extremely important–think early situation comedy–but here it is in a nutshell:
King Ferdinand and his friends devote themselves to three years of uninterrupted "study" and NO women will be allowed within a mile of their court to interfere with their academic pursuits—that is, until the Princess of France arrives with her entrancingly distracting entourage of gorgeous ladies-in-waiting! They tease the boys then, with disguise, deception, mayhem, and romantic mischief, drop them like hot potatoes. No, this Shakespearean comedy doesn't end with weddings.
The sassy dialogue–inlaid with satirical, double-meaning, gems and plenty of sexual barbs and sexist banter–is intriguing and was well ahead of it's time. While not a great classic, and certainly an experimental, early work of the Bard, in none-the-less foreshadows themes that will play out (better) in his other, later works. The director, Scott Palmer, has set the production with a uniquely Italian-Frederico-Fellini feel, inspired by Fellini's masterwork La Dolce Vita.
The show is billed as "a light-hearted romantic romp, outdoors in the glorious surroundings of the Tom Hughes Civic Center Plaza—with stunning Italian-couture costumes by Melissa Heller and starring some of B&B's most recognizable outdoor performers—riding in on Vespas! Perduta di lavoro la dolce vita di amore!"
The cast includes Andrew Beck as Ferdinand, Chip Sherman as Berowne, Luke Armstrong as Longaville, Cassie Greer as the Princess of France, Arianne Jacques as Rosaline, Jessi Walters as Maria, Dallas Myers as Boyet, Adam Syron as Moth, Gary Strong as Armado, and Rachel Rosenfeld as Jaquenetta. All played strongly.
The direction, by Palmer is, as usual, quite well done. Striking, really–especially in the blocking. The "runway" stage, with audience members on both sides, worked well, primarily because Palmer new how to make it interesting. However, one must give the players quite a bit of credit as well; these are some of the Portland Metro Area's finest.
The parts were played broadly, especially by the men, and the, sometimes slapstick, performances were melodramatic. The women, in general, played their roles "safer" and straighter. Among the women, only Rosenfeld pushed with the same exaggerated characterization as the men.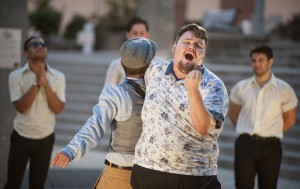 Especially strong and delightful performances were given by Myers, Syron and Strong; all have great comedic skill. Having seen Syron and Strong in previous–and quite different–roles, I was particularly impressed. Strong, especially, excelled–throwing himself fully into his role. He was absolutely brilliant in this part!
The setting and scenery was nonexistent, since the production was "open air" rather than in their theater. It worked; nothing more was needed. The lighting, also sparse, also did the trick. The plaza's acoustics were great. There's not a bad seat in–well, out of the house. Best seats, I believe, will be on the first landing of the plaza's stairs.
The costumes, by Melissa Heller, looked good, as far as I know. I'm no expert on the 1960's Italian thing. I did find the lack of distinction between the royalty, aristocracy and peasantry disturbing. (On a related side note, this lack of separation between the classes went beyond dress and was also present in manners–too familiar or casual.) Rosenfeld's costume also did not fit well with her characterization.
The show's remaining performances are July 26, 31, August 1, 2, 7, 8, and 9; 7:30 p.m. at The Tom Hughes Civic Center Plaza, 150 E Main Street, Hillsboro, Ore. Tickets: $18, may seem a tad steep for a royalty-free, low tech budget, open air production, but B&B does pay their resident actors.
Pre-show we ate at Orenco Station Grill, 6195 SE Cornell Rd. (Hillsboro). The service and setting were delightful and the food was superb, as was the music (live smooth jazz). I had the Cajun Shrimp Salad with seven delicious shrimp, mixed greens, sliced pears, Swiss and mozzarella cheeses, topped with bleu cheese dressing. My wife had a Chinese Chicken slaw-type salad that featured a sweet, gingery dressing and crunchy "chow mein" noodles. Both portions were good and fairly priced. For dessert we had a perfectly crafted slice of key lime pie (and we sampled a few when we in Florida).
By Gregory E. Zschomler