Artslandia's Matt Smith went to see TWO different productions of Love's Labour's Lost in the space of one week (ours and our friends at Post5!)…He enjoyed them both, for different reasons! Read the full review online here, or the stuff about B&B's production below!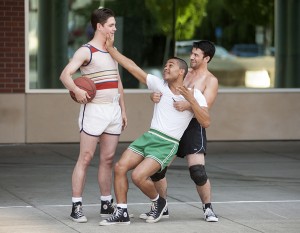 Bag&Baggage artistic director, Scott Palmer dug up an anonymous adaptation of Love's Labour's Lost from 1762 in which the supporting characters are jettisoned.  Mr. Palmer has also combined several characters, reducing the courtiers to three men and women. In this adaptation, the action is moved from Northern Spain to Italy. Several times, Ferdinand (Andrew Beck) and his men raise their fists and shout "La! Dolce! Vita!" referring to the 1960 film by Federico Fellini. The cool, haughty aesthetic of late-1950s Rome fits the pretentiousness of the Navarre court. Otherwise, La Dolce Vita should be considered the antithesis of Love's Labour's Lost. After all, the very setup of the play concerns King Ferdinand's decree that the court shall foreswear contact with women, while Fellini's film is all about meaningless, self-indulgent sexual encounters.  Between striking cool poses in sunglasses, form fitting slacks and mod shirts, the actors engage in lots of hip-thrusting, crotch-grabbing and ogling. Chip Sherman as Lord Berowne has a very funny bit of business when he and the King listen in on Longaville.  King Ferdinand is unaware of Berowne's presence, and Berowne crouches, dodges, and crab walks across the stage to remain hidden. Gary Strong as Don Amado and Adam Syron as Amado's servant Moth also get lots of laughs with broad physical comedy.  The princess and her ladies, played by Cassie Greer, Arianne Jacques, and Jessi Walters are sassy and sexy.  Of course, no adaptation taking its cues from La Dolce Vita would be complete without Vespas, and sure enough that is how the ladies arrive and ride off at the end into downtown Hillsboro.
Seeing Love's Labour's Lost twice in one weekend may arguably be too much for any but the most ardent Shakespeare aficionados, but Bag&Baggage and Post5 theatre have both mounted entertaining productions with different visions. Post5's version closes on August 3 at Mile Post 5 located at 850 NE 81st Ave. Click here for tickets to Post5.  Bag&Baggage's runs through August 9 at The Tom Hughes Civic Center Plaza, 150 E Main Street in Hillsboro. Click here for tickets to Bag&Baggage.