The Willamette Week's Tree Palmedo reviews our Love's Labour's Lost! Read the review online or below!
Love's Labour's Lost (Bag & Baggage)
Shakespeare is livin' La Dolce Vita.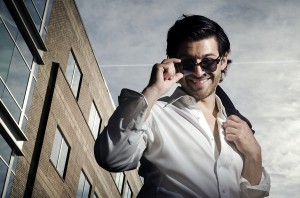 Love's Labour's Lost has never been very popular. One of the more convoluted comedies in the Shakespeare canon, the play went almost 250 years after its initial performance without a single production. But perhaps due to its surprisingly feminist themes, or maybe just its sheer number of trysts and merry mix-ups, the story of four lords who can't escape love has found a new audience in the 21st century.
This adaptation by Hillsboro's Bag & Baggage Productions, the second Portland-area Love's Labour's Lost this summer, doesn't hide that it's geared toward a contemporary crowd—which doesn't just mean director Scott Palmer has emphasized the dick jokes. He's also drawn heavily from The Students, an 18th-century anonymous adaptation of Love's Labour's that's about half as long as the original. That means characters are missing and storylines have been tweaked, but most of Shakespeare's language remains. So does the premise: Ferdinand, the King of Navarre (Andrew Beck), has decided to ban women from his court for several years of fasting and studying with his two lords (not three, as in the original). But when the princess of France comes calling with her ladies, the gentlemen of Navarre have trouble sticking to their plan. Oh, and under Palmer's direction, they're all living Fellini's La Dolce Vita, dressed in shades and slim-fitting Italian suits and zipping around the plaza on Vespas.
Unlike other early comedies, such as The Taming of the Shrew, Love's Labour's places most of the power in the women's hands. The princess and her ladies see through every trick the men try to pull, and they're the ones steering the romance. But here, the lords are clearly the stars, with bigger personalities than any of the ladies. With Michael Jackson-style spins and an exhausting onslaught of hip thrusts, Chip Sherman's Lord Berowne is the magnetic ladies' man. Luke Armstrong, meanwhile, plays a hilariously inept Longaville, a follower who can't quite keep up.
There's also a sitcom's worth of lowbrow humor—"Hava Nagila," "La Cucaracha" and the Three Amigos' salute all show up. The characters who exist for pure laughs may be one-note, but they nail that note: Gary Strong, as the Spanish knight Armado, is a whirlwind of pouty faces, and the funniest female character, Jaquenetta (Rachel Rosenfeld), delivers her iambic pentameter with a thick Jersey accent. Though some scholars might scoff at the production's numerous cuts and sight gags, you have to applaud Palmer for making one of Shakespeare's knottier plays feel genuinely relevant and accessible.

---
SEE IT: Love's Labour's Lost is at the Tom Hughes Civic Center Plaza, 150 E Main St., Hillsboro, 345-9590. 7:30 pm Thursdays-Saturdays through Aug. 9. $18.