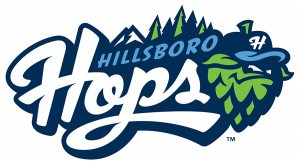 BAG&BAGGAGE RECEIVES MAJOR SPONSORSHIP FROM THE HILLSBORO HOPS
In a remarkable new partnership, two of Hillsboro's flagship attractions join forces to ensure Hillsboro can PLAY all year long…on stage and on the field!
HILLSBORO, OR – Bag&Baggage Productions, Hillsboro's resident professional theatre company, is pleased to announce a major new sponsorship agreement;  The Hillsboro Hops, Hillsboro's hometown Minor League Baseball team, will be the Presenting Sponsor of Bag&Baggage's hilarious, fast-paced holiday spoof, It's A (somewhat) Wonderful Life, performed from November 29th – December 23rd at the Venetian Theatre in downtown Hillsboro.
"This is a real milestone for us," said Anne Mueller, Bag&Baggage's Managing Director. "The support we are receiving from The Hillsboro Hops will help us reach out to a new audience, those who are passionate about plays on the ball field. We hope this partnership will introduce those people to the passion of plays in theatres, too."
The partnership includes cross-promotional opportunities for fans of both The Hillsboro Hops and Bag&Baggage, two of Hillsboro's most successful attractions.
"Bag&Baggage and the Hops share a common goal: to enhance the quality of life in Hillsboro," Mike McMurray, President of The Hillsboro Hops said. "Through a synergistic relationship, we believe that we can each better serve our community. Besides, B&B is just plain cool."
The sponsorship agreement means that The Hillsboro Hops will be recognized as the Presenting Sponsor of Bag&Baggage's 20 performances of their world premiere adaptation of Frank Capra's holiday classic, entitled It's A (somewhat) Wonderful Life. The annual holiday show is Bag&Baggage's most popular performance, regularly attracting more than 5,000 audience members during the holiday season.
"Many of our patrons are fiercely local," said Scott Palmer, Bag&Baggage's Artistic Director. "They see B&B as Hillsboro's very own theatre company and are very committed to our success. This partnership helps us introduce our fans to another local treasure, our very own Hillsboro Hops."
Bag&Baggage's holiday production this year is a tongue-in-cheek send-up of Capra's beloved story of George Bailey and Clarence the Angel performed in the style of a 1940s radio show. It's A (somewhat) Wonderful Life is adapted and directed by Scott Palmer and will be a fast-paced, frantic and farcical comedy retelling of the classic story.
The Hillsboro Hops will have a high profile during the performances, including a presence in the theatre's lobby and audience members will also have the chance to join Bag&Baggage actors and staff next summer for a picnic at a Hops home game.
"We are excited to tell our patrons about the Hops and get them pumped up for the 2014 Hops Schedule," said Palmer. "I can tell you that Hops' Season Tickets will be hot commodity for Bag&Baggage patrons this holiday."
More information about It's A (somewhat) Wonderful Life can be found online at www.bagnbaggage.org. More information on The Hillsboro Hops, including details of the team's 2014 Schedule, can be found online at www.hillsborohops.com.
# # #
ABOUT HILLSBORO HOPS:
The Hillsboro Hops are the Single-A baseball affiliate of the Arizona Diamondbacks of Major League Baseball. The team's season runs from mid-June to early September. The franchise relocated to Hillsboro in 2012 and began play in 2013 in a new state-of-the-art 4,500 capacity ballpark. The Hops are part of the 58-year old Northwest League, which includes teams in Boise, Eugene, Salem-Keizer, Tri-Cities, Spokane, Everett and Vancouver BC. Major League stars who rose to prominence via the Northwest League include Ken Griffey Jr., Felix Hernandez, Edgar Martinez, Reggie Jackson, Ozzie Smith, Rickey Henderson and Tony Gwynn.
ABOUT BAG&BAGGAGE PRODUCTIONS:
Bag&Baggage Productions is Hillsboro's only professional theatre company. Based at the historic Venetian Theatre in downtown Hillsboro, B&B is committed to innovative and provocative new interpretations of the classics of American and English drama, bringing surprising new insight to stories and writers from our past. Led by Hillsboro native Scott Palmer, B&B is one of the largest non-profit cultural organizations in Hillsboro, has gained an international reputation for excellence and regularly attracts audiences of more than 18,000 to the company's six-show season.
# # #
Calendar Listings:
It's A (somewhat) Wonderful Life
based on Frank Capra's It's A Wonderful Life
Adapted and Directed by Scott Palmer
Preview Performance: Friday November 29th
Runs: November 30 – December 23, 2013
Thursday, Friday, Saturday at 7:30pm and Sunday at 2:00pm
The Venetian Theatre
253 E Main Street
Hillsboro, OR 97123
Tickets: $18 – $32 (based on date and seating section)
Box Office: 503 345 9590 or online at www.bagnbaggage.org