Gregory Zschomler and Ruth Zschomler came alllll the way from Southwest Washington to take in Private Lives and were very glad they did! Read the amazing review online here!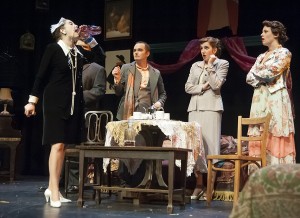 REVIEW: "Private Lives" by Bag & Baggage a Grand and Striking Production: A Double Delight at The Venetian Theater and Bstro last night
Actually, it was more than double, because there were several treats. Four of us had the special privilege to view and review the the recent production by artist and director Scott Palmer ofBag & Baggage Theatre, in Hillsboro, Ore. Their production of Noel Coward's 1930 stage play"Private Lives" was not only a treat in itself, but so was the place it played: The Historic Venetian Theater and Bistro.
The beautiful, refurbished and remodeled, theater itself has a very interesting history and is supposedly haunted. The space is not only beautiful, but has the most comfortable seating of any playhouse I have ever been in. [If you like haunted theater stories, check out my book,PLAYHOUSE PHANTOM, based on a true story.]
For now that's enough on the theater; I'll get to the bistro and other bonus notes at the end of this review, but for now…
On With the Show
Director Scott Palmer has masterfully brought this brilliantly written work to life. The blocking was simply of the best I have seen and any director would do well to study this production. The acting, too, was exceptional and of the quality that goes beyond what actors can provide from themselves. The keen eye and graceful hand of a good director is evident in the intensity and interaction throughout.
This professional production was of the quality and artistry I find at the Oregon Shakespeare Festival. In other words top notch.The resident players include Adam Syron (Elyot),Arianne Jacques (Sibyl),Chrissy Kelly-Pettit (Amanda), Gary Strong (Victor) and Theresa Park (Louise, the maid).
All were marvelous in the roles and were excellent in British diction (well, except the French maid who spoke French).
Especially strong were Jacques, Kelly-Pettit and Syron who each displayed a depth of emotion and range of characterizing mannerisms that immortalized their performances. However, the standout of them all was Syron, who's quirky and intense hysteria was a delight to behold.
Sophisticated, Sexy and Sparkling
The 1930 British comedy of manners still has relevance for today and holds a verystriking message. I found the ending a bit abrupt and jarring for a comedy, but I enjoyed the dialogue and situations throughout. Likely, this presentation was a bit more sexual than it was originally, and with the mild language, excessive drinking and physical abuse I'd rate the play at PG-13.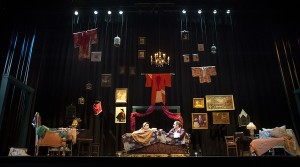 Grand Simplicity
The production's "look" was creative and well-conceived. While simple in some regards, and a bit eclectic (as regards to period) the set, by Megan Wilkerson, managed to delight and come off on a grand scale, none-the-less. The lighting, by LD/TD Demetri Pavlatos, was near perfect. The scenes were well lit with bastard amber and no-color blue and some were infused with a darker flame and green color for a dramatic flare.
The Bistro and Other Treats
Our party enjoyed a pre-show meal in the bistro/lounge during Happy Hour (3-6 p.m. Sunday-Thursday) and thoroughly enjoyed our experience. The delicious Venetian burger–a half pound of chef-seasoned chuck with the usual accouterments on a house bun–was very tasty (and half it's usual price).
I'm not a pasta fan, but according to another in our party the fettuccine Alfredo was quite good. The artichoke-bleu cheese dip served with fresh pita triangles was simply amazing and the cheese-garlic-stuffed bread was divinely awesome and very cheesy! The presentation of each dish was nice as well.
A look at the main dinner menu and a gander at the dessert case told us we wanted to come back. We all liked the old town atmosphere and our server was polite and helpful.
My wife also enjoyed the old fashioned (and genuine) drugstore soda fountain next door. Her $3 chocolate soda she said was "delectable and heavenly" and she is a connoisseur of all things ice-creamy. All in all we thoroughly enjoyed experience which included a lovely evening's walk along Main in downtown historic Hillsboro.
My recommendation? It's worth the drive, but plan for 40-60 minutes in traffic if you leave during rush hour on a weekday. Arrive before 6 p.m. and enjoy The Venetian's Happy Hour. Get your tickets when the box office opens and wander Main Street. Drop in at Jacobson's Books (and buy my book), enjoy a Sunday at the soda fountain and then catch an awesome show by Bag & Baggage. You won't be disappointed.
Information
The production runs now through May 30, 2014 at The Venetian Theatre, located at 253 E. Main Street, Hillsboro, Ore.; Thursdays, Fridays, and Saturdays at 7:30 p.m., Sundays at 2 p.m. Tickets: Adults: section 1 – $30, section 2 – $26. Students and Seniors: section 1 – $24, section 2 – $20.
By Gregory E. Zschomler with Ruth Zschomler
All photographs, provided.